Why You Want an Easy to Use CRM for Your Small Business
Get a simple CRM system for your sales team
72% of executives prefer an easy to use CRM over one with more features.
There's at least 600 companies out there building CRM tools and systems, in as many different shapes and sizes.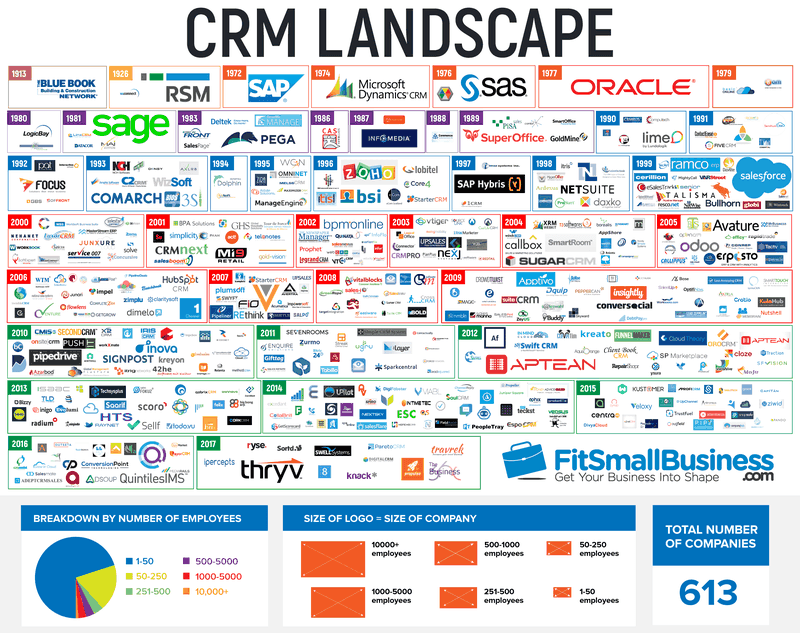 And these systems come with more different features and benefits than you can possibly imagine. There's never been that many options. 😵
Still, for a small business wanting to make more sales, the choice for the right software is actually easy to make: the best CRM app is the one you can (and will) actually use. 👈
---
Why an easy to use CRM system is the best sales software for a small business
Again, let's face it. If it's not easy, you (and your sales team) won't use it. 😓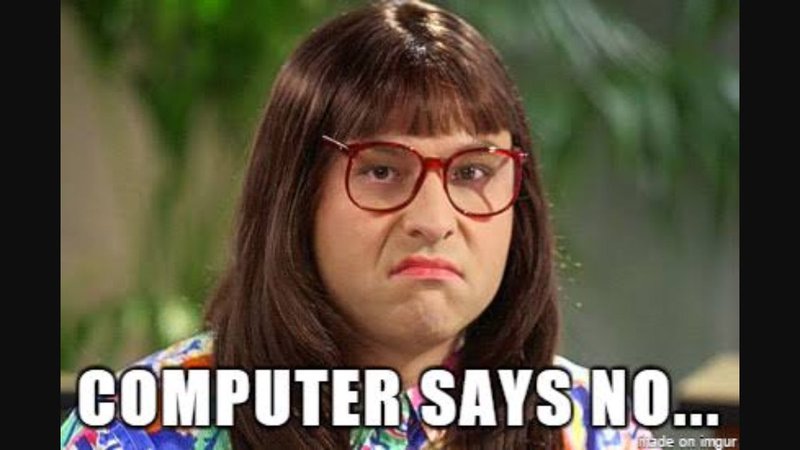 Here's a list of the benefits you'll get from easy to use CRM software: 👇
Free up your time. You shouldn't waste time navigating complex sales CRMs. Your time as a small business is better spent with customers.
Stop dropping sales leads. A CRM system can only make you infallible if you completely understand it. Otherwise it's yet another sales tool you don't use to the fullest.
Spend less time learning how to use it. A quicker learning curve means you can get down to business and sales results quicker.
Onboard new sales hires in no time as well. Invite them to the CRM as they join the company and get them up to speed right away.
Enjoy your work more with a simple CRM. The times of having to work with badly designed software are over for small businesses. Use sales software you actually like.
---
The importance of easy to use CRM software in numbers
How important is ease of use really? What kind of weight should it get when choosing?
Let's talk numbers!
There are many studies that show ease of use is the single most important feature:
72% of senior executives would trade more ease of use for less functionality (CSO Insights)
65% of sales professionals finds ease of use the most important CRM feature (Inside CRM)
43% of CRM customers use fewer than half of the features (CSO Insights)
70% of staff says poorly performing technology is a drain on productivity rates; the most important factor, ahead of burn-out, illness and office politics (Staples Workplace Study)
This importance of ease of use for CRM leads to a situation in which many companies (including Salesforce and SAP) claim in their marketing messages that their software is easy to use…
But despite the marketing talk, are these systems as easy as they claim to be? How can you separate the wheat from the chaff?
---
How you can recognize easy to use CRM software
An easy to use CRM is not easy to make, nor to recognize immediately. 🤔
These are a few pointers when looking for the best CRM for your small business:
Simple at first, powerful afterwards. The best CRM system builds around its essence and makes it very easy to get in control.
Intuitive, visual experience. Software is better when it represents information in a way that is immediately recognizable by the human eye.
Consistent way of working on all devices. The best simple CRM software works the same way on mobile, desktop and in plug-ins, so you only need to learn it once.
Integrates with your email program. Whether you're using Outlook or Google's Gmail, if the app integrates with your email client you don't need to switch tabs or programs all the time.
Fast application. Nothing's worse than waiting for software tools to load for multiple seconds every time you click.
Friendly, knowledgeable support. Even with the easiest to use CRM software you can still have questions. Excellent support is always a plus.
---
Where you can find an easy to use CRM
If you're looking for the easiest to use CRM software for small businesses doing B2B sales, then you're in luck: you've come to the exact right place a.k.a. the Salesflare blog.
Note: If you're NOT selling B2B but B2C and don't need a sales CRM, we can recommend you check out a more B2C tool like Nimble instead.
Salesflare is a simple yet powerful CRM for small businesses selling B2B.
It's a fast, visual and easy-to-use sales tool. Built on happiness with the latest tech, by humans for humans.
I've used so many CRMs in the past, and have also looked at lots of others too.

I was first attracted to Salesflare by the clean design and ease of use, but then was very impressed with just how powerful it is.

It integrates so well with Gmail, that it just became a natural extension of how I work. Also the developers have been offering great support too.

I highly recommend Salesflare.
– Peter Chaly, SMARTink
Salesflare is:
the top CRM app on Product Hunt, as voted by its community of product lovers
a superbly easy to use sales CRM according to hundreds of reviews on G2 (4.7/5🌟), Capterra (4.5/5🌟) and GetApp (4.7/5🌟)
considered the best simple CRM by thousands of small businesses
The CRM natively integrates with Google, Office365/Outlook, Zapier, … to make sure you can seamlessly run your whole small business.
Reviewers on G2 give Salesflare a whopping average score of 9.5/10 for ease of setup. ✨
Just get the trial. The first 30 seconds won me over, it's SO EASY.
– Sloane Earl, Refereum
Signing up only takes a minute. Sign up for a free CRM trial here. 👈
---
Simple to set up integration with Outlook, Office365 or Google emails is key
If you communicate a lot with customers through email, then a seamless integration with your email service is essential.
Salesflare integrates tighter with your emails and calendar than most CRMs and offers you all of the below:
Pull emails and calendar meetings into customer timelines
Automatically import email signatures
Get context next to your emails with a CRM sidebar that gives you immediate access to all CRM functionality
See who your sales team knows based on who they email and how often
Send automated and personalized email campaigns from your CRM based on all the customer data you gather
Track email opens, clicks and web visits linked to personal and campaign emails
This email integration is available for Google (G Suite and personal Gmail) and Microsoft (Office365, Outlook.com, Outlook), but also for other email services via IMAP.
---
Easy to use on mobile devices too: don't get a CRM with a limited mobile app
Most CRM systems are still built for computer interfaces, while the internet is now primarily accessed from mobile phones.
The fact that they offer mobile apps with only a part of the functionality, forces you (and your sales team) to keep carrying around your laptop all the time.
To solve that, Salesflare's CRM was built mobile first. Its fully featured mobile app gives you access to everything the software has to offer, including email campaigns, the full settings menu, email open notifications and more.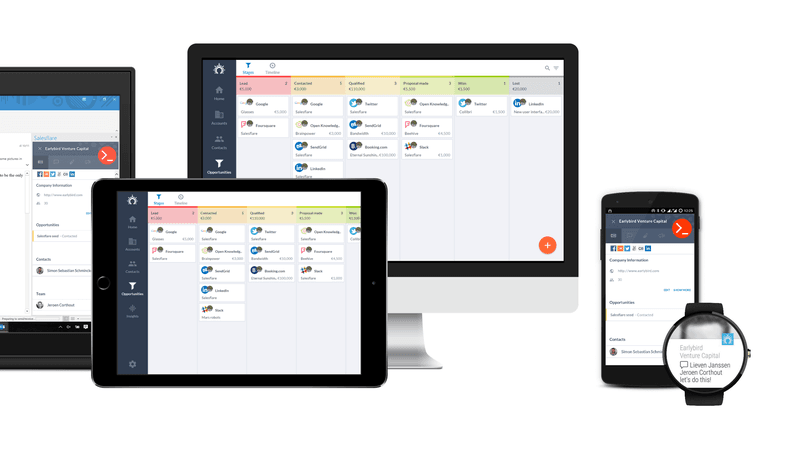 When your customers are always at your fingertips, the real power of CRM becomes clear.
---
The newest CRM evolution after ease of use
The next generation simple CRM is not just software that works easily, but software that starts working for you. It's an automated CRM.
Automation frees up even more time, helps you to be even more productive and makes you a happier person too.
As a concrete example of the possibilities, here's some of the powerful automation built straight into Salesflare:
Contact and company information is automatically enriched from social profiles and email signatures
Live updated timelines pull in emails from your inbox, meetings from your calendar and calls from your phone
Files exchanged with customers get listed so you always find them back
Suggested tasks let you know when leads go inactive, emails need a response and more
Emails can be triggered automatically when contacts enter a certain filter segment
And much more to discover in a free Salesflare trial
If you want an intuitive, automated, and intelligent sales CRM, I have seen nothing that comes close to Salesflare.
– Colin Lernell, Udacity
I'm Co-Founder of
Salesflare
, the simply powerful CRM for small businesses. I love growth, automating sales, and building beautiful products.
Latest posts by Jeroen Corthout
(see all)