The ultimate pre-trade show checklist for startups and agencies
Trade shows and conferences are an effective way to meet new customers and professional connections – surprisingly enough, according to InsideSales, 72% of sales and marketing leaders say a trade show is an effective method to generate quality leads.
And while trade shows can sometimes seem overwhelming and, let's be honest, expensive, they can be a goldmine for startups trying to make a name for themselves in any industry – especially if you plan ahead! 🗓
That's why we've put together this ultimate checklist packed with tips and tricks to help you go from trade show rookie to trade show pro – whether you're exhibiting or just attending the event.
Bonus: We've put together a downloadable checklist for you to get all of this valuable info in one handy, digestible document. 🚀
Let's jump right in! 👊
---
Getting started – metrics and more
Before you begin planning for a trade show or conference, think about what your goals are for going to an event.
Are you trying to win new business? Do you want to promote an exciting new feature you just launched? Maybe you want to try to connect with some investors? 💸
Try to frame your planning around your intentions – and make measurable goals that you can track and reference for future events so that your company can decide if a particular trade show is successful and worth the ROI.
Some metrics to consider and things to track at the event:
Budget – it's important to determine how much money your company is willing to spend on a particular event and to plan from there. Try to give as many details as possible and account for unexpected expenses as well. Pro tip: if it's your first time exhibiting at a particular trade show, ask the coordinator if they offer first-time discounts.

Leads – how many leads did you generate during the event? It's also important to try and track how many "hot" leads you generated so you can determine if the event's audience is right for your company. Pro tip: You can add leads quickly and on the spot in the Salesflare mobile app. 🔥
Demos, follow-ups and meetings – keep track of how many demos and meetings you conducted during the trade show, as well as how many follow-ups you scheduled for afterwards. Pro tip: Be sure to schedule as many meetings as possible well in advance of the event – people's calendars fill up very quickly at trade shows and conferences! More on planning this later.

Closed deals – how many sales did you generate during the event itself? Pro tip: Track your leads and won business in your sales pipeline on Salesflare (you can even do this on the mobile app so that you don't need to carry your laptop around). 📱
Social media – Measure the engagement you receive during the event (and be sure to post all about your company's presence at the event before, during and after!) – this means likes, RTs, comments, etc. Start conversations and encourage people to come chat with you IRL. Pro tip: Make a plan ahead of time for your social media posts. Decide who will manage the accounts during the event, what messages you want to send out and don't forget to take lots of photos at the event and post them! #teamwork #conferencelife
Once these things are taken into consideration, it's time to decide how much time, money and resources you want to invest in attending the trade show. Which brings me to my next point…
---
Exhibiting vs. Attending
Is your company planning on attending the event and walking around to each booth and networking? 🤝
Or do you want to invest in your own space to exhibit your products or services?
This decision greatly depends on your company's budget, of course, because trade shows and conferences can get expensive.
But if you have the money and resources to invest in a booth at an event, it can be a great way to gain some more visibility and have a dedicated space for meetings.
If not, no worries! Trade shows and conferences can still be incredibly valuable opportunities to meet new business connections without a booth. 👍
However, the plans, time, budget and logistics involved can greatly differ, as exhibiting takes a considerably larger investment of these things, so let's break it down.
---
The timeline for attending a trade show or conference
9-12 months before the event…
Decide on a budget and the size of your booth. Start to think about what you want to promote and the messages you'd like to get across within the space. 🤔
If possible, try to already reserve your spot on the showroom floor and be strategic about it: near entrance doors or in areas with a lot of foot traffic are ideal places to have a booth.
Start to design the booth concept (it might be ideal to hire professionals for this part – there are several event and logistics agencies out there that cater specifically to trade shows).
Think about any exciting launches or news you'd like to announce before or during the event and start to put together a plan for generating buzz and interest.
Do you have someone in your company who is a thought leader on a relevant topic? Be sure to check out opportunities for speaking engagements during the event! Apply early – these slots fill in very quickly. 🗣
6 months before the event…
Make sure your booth design is in the works at this point – even better if it's already good to go!
If you're having multiple people from your company joining the event, make sure they are registered (tickets are usually much cheaper if you purchase them well in advance).
3 months before the event…
Ensure that everyone from your company who is attending is registered and understands their role at the event. Who will speak to investors? Who will give demos? Who will tweet about your presence at the event and send out promotional emails? Who will save and track the leads generated from the event?
Of course, many of these roles can (and most likely will) overlap, but it's best to have a plan of attack moving forward. 💪
Put in an order for any additional supplies you may need – such as promotional banners, giveaways, collateral (promotional brochures and the like), pens, etc. ✍️
Double check that everything is ready to go for your booth. All of the furniture/materials should be ordered at this point. Coordinate with whoever is in charge of building the booth and make sure everything is on track to be delivered on time.
It's better to get these things taken care of early than to wait until the last minute! ⏳
1 month before the event…
Does the event offer an app or matchmaking platform? Take advantage of this to set up meetings as soon as possible. This also gives you the chance to scope out any business connections or customers who may be attending as well. 📲
Research competitors who are attending – see if they have a booth and try to get an idea of how many employees they are sending to the event.
Confirm travel logistics at this point – flights, hotels, etc. and have a game plan for how you and your colleagues will track expenses. ✈️
The few weeks before the event…
If you want to generate some buzz around your company attending the trade show or conference, sending an email announcement is a great way to try to get some more engagement ahead of the event.
Some conferences offer mailing lists of attendees if you're an exhibitor, but this isn't always the case – and you should always use these lists responsibly!
But if you do not have access to this, and there are certain people or companies you'd like to chat with, check out this guide to finding anyone's email.
Ask other companies if they have a booth you can come visit, or see if there are any collaboration/partnership opportunities you can discuss. Mailchimp is a great tool for organizing these announcements and mailing lists.
Finally, as you're reaching the eleventh hour, be sure to fill in those last-minute meeting slots, double check everything is good to go for the booth delivery and setup and scope out the side events you want to attend.
Boom! You're ready and prepared for a productive trade show!
Don't forget! These are some must-have items that you should have handy because, well, you never know…
Pens, Sharpies and highlighters
Tape – duct, masking, whatever you might need
Extension cords for any screens or plug-in appliances and extra chargers
General office supplies: post-its, rubber bands, stapler, paper clips, scissors
A basic toolkit: screwdriver, hammer, wrench, pliers, zip ties, etc. 🛠
A first-aid kit: headache and cold meds, bandages, etc.
Extra business cards, promotional materials and any demos you have
Tips for your booth design…
In terms of what your booth should look like, that's completely up to you! But here are some things to consider:
Try to avoid having any chairs in the booth space – they take up a lot of space and when they're not used, it makes the booth seem empty and as if you don't have any customers – not a good look. 🤷‍♀️
Have an open and inviting floor plan – you want people to come talk to you, so make the design as approachable as possible!
Some kind of engaging activity or activation – from giveaways to touchscreens with more information about your company, try to think of some interactive elements you can add to the booth. Budget permitting, of course.
Follow the instructions in the exhibitors' manual – I can't stress this one enough. Be sure that you and the people you've hired to put together your booth follow all of the instructions and protocols laid out in the manual provided by the event coordinators. Not following the rules can cost you money, time and a lot of stress.
If you're attending the trade show without a booth…
Many of these items still apply, but you can, of course, skip the steps that involve the logistics around the booth.
Just be sure to reach out to attendees ahead of time to get those meetings scheduled (and bring some promotional materials, if possible, to showcase your product or service to people you speak to).
When it comes to attending the actual speaking sessions and keynotes, try to do this sparingly. 🙅‍♀️
There are so many great TED Talks and recorded speaking sessions from conferences online – don't get sucked into this stuff when you could be networking with potential customers or investors during the event!
Get your team organized!
Take advantage of tools such as Airtable, Trello, Dropbox or Notion to collaborate and make sure everyone is on the same page regarding the purpose and goals of attending the event.
---
Have a Plan B (and C, and D…)
I get it: stuff happens. Especially in situations as chaotic and busy as trade shows and conferences.
Sometimes it seems as if Murphy's law was created just for events like this – things can go wrong, and chances are, they will go wrong.
I've had my fair share of mishaps at events – I once had my phone accidentally packed into a shipping container after a trade show.
And at a separate event, I had to argue with the builders to let me into the storage area because they didn't properly unpack everything and didn't believe me when I said there was more to unpack. 🤦‍♀️
Like I said: Stuff. Happens.
No need to panic, though! This is why it's good to have backup plans to keep everything running smoothly.
Always bring extra supplies and make detailed packing lists when preparing for the trade show. Coordinate with your team on who brings what, and assign specific responsibilities to everyone.
Another good thing to have is the exhibitors' manual printed out in a binder. These usually have the forms needed for post-event cleanup and logistics, so it's good to have them ready to go at a moment's notice. 📄
---
Final Tips
I know I've thrown a lot of info at you here, but no need to panic if your company doesn't follow this timeline exactly. Different event types have different requirements and lead times, so just do your research and make sure you follow the deadlines.
Some extra resources for your team to rock it at the trade show:
---
There you have it – if you follow these tips before attending a conference or trade show, you'll be ready to make more sales and meet some new, exciting, interesting people in your industry!
Be prepared and always follow the guidelines laid out by the trade show organizers – with that said, you'll be a pro in no time.
And don't forget: you can download our free handy checklist to access a condensed version of everything mentioned in this post!
Now, get planning (and don't forget to have a little bit of fun)! 🎉
---
We hope you liked this post. If you did, spread the word!
For more hot stuff on startups, growth marketing and sales: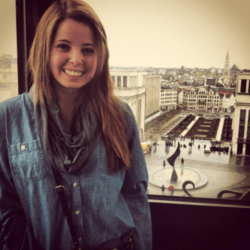 I'm a fintech-turned-SaaS marketing expert who is passionate about design, automation and all things digital.
View my full profile here
.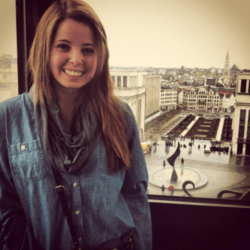 Latest posts by Ali Colwell
(see all)