The Ultimate Guide to Mailchimp
Here's how to use Mailchimp
Ah yes, MailKimp.
Or is it KaleLimp?
…MailShrimp? 🤔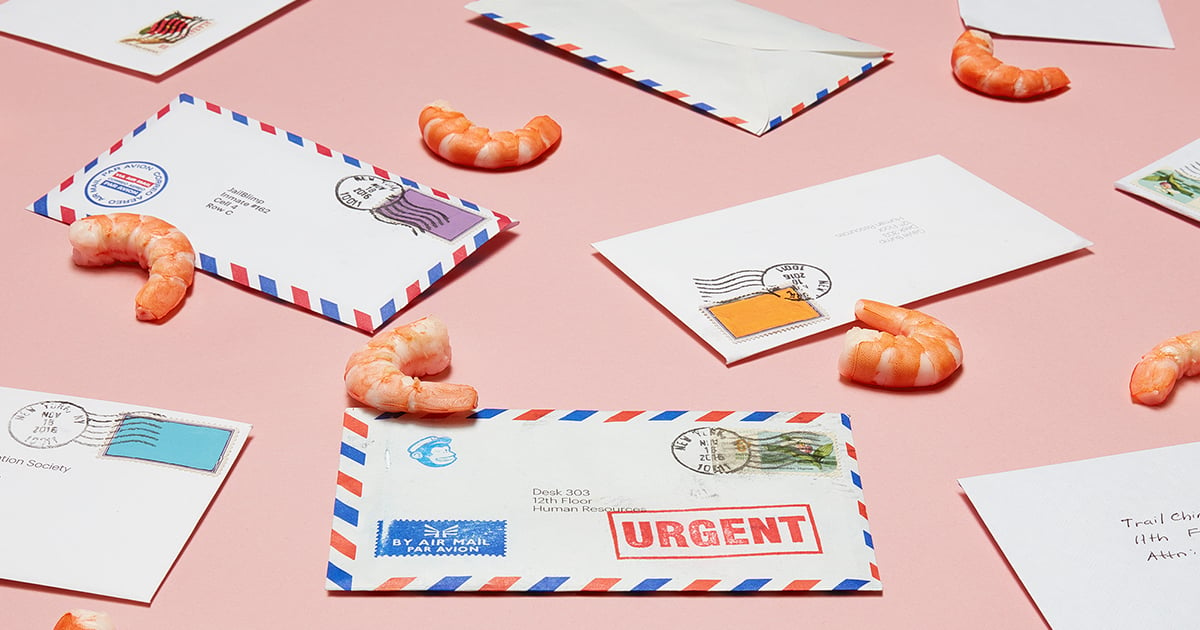 No matter how you say their name, the Atlanta-based marketing automation and email marketing platform Mailchimp was founded in 2001, and has seen incredible growth over the years. 🚀
While the company is quite known for its clever and quirky ad campaigns, it's also an all-around great tool for anyone trying to implement email marketing into their business.
It's an easy tool to use once you get the hang of it, and its price points are ideal for a wide variety of budgets.
But if you're unsure of where to begin, not to worry! We've put together this tutorial with step-by-step instructions on how to get started with Mailchimp. 🤘
Oh, and if you're looking for a Mailchimp-style lightweight sales CRM that you can easily hook up to Mailchimp: check Salesflare out!
---
1. Learn how to use the different sections of Mailchimp
First things first: we need to understand the different tools available in the Mailchimp dashboard!
As you can see, once you setup your account and log in, you'll be taken to the dashboard.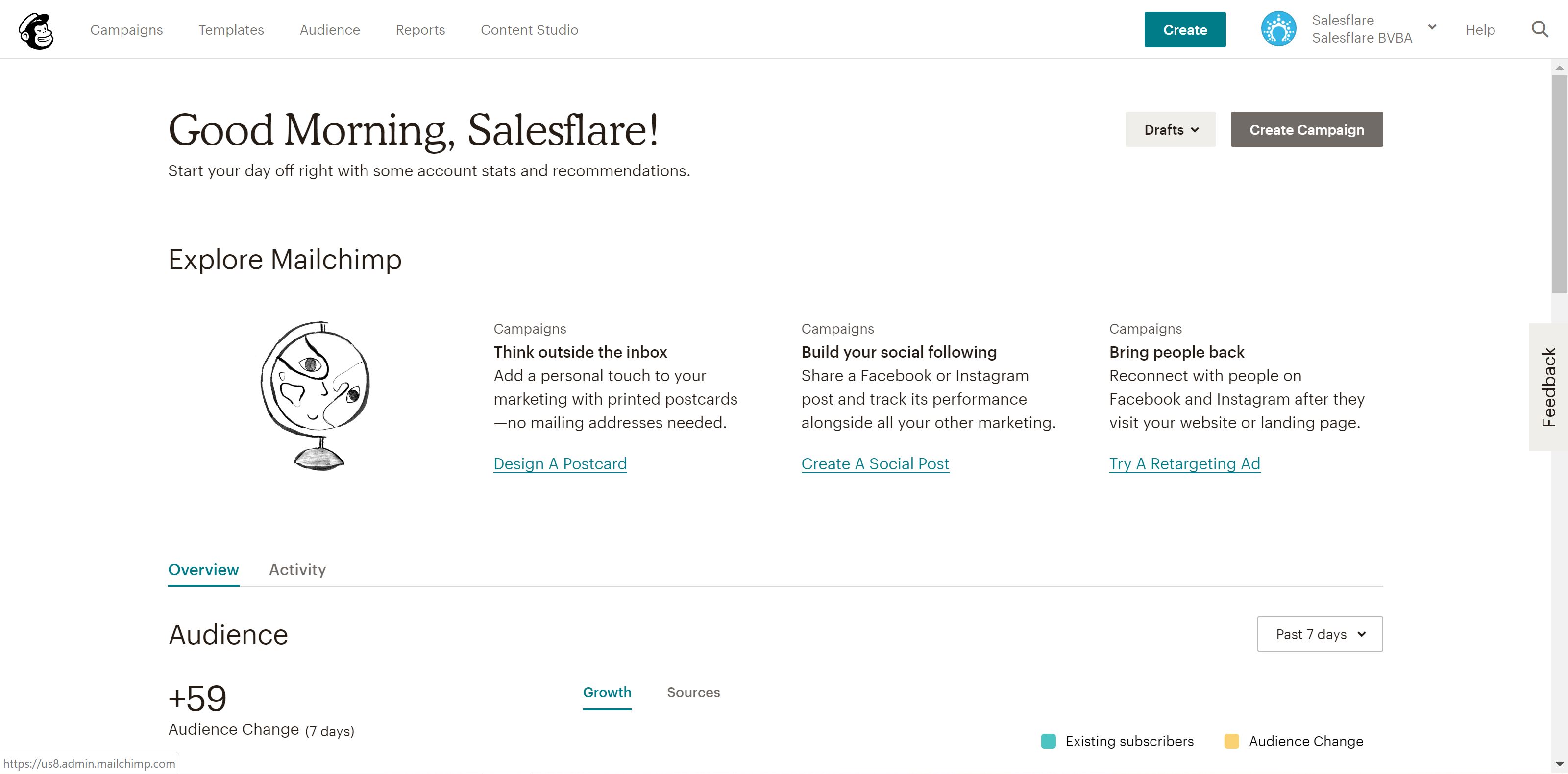 You'll notice that there are five different tabs at the top left of the screen: Campaigns, Templates, Lists, Reports and Content Studio.
Campaigns are the actual emails, landing pages, etc. that you publish and send out to customers – as a part of your email marketing. We'll discuss this in detail in step four.
Templates is the section where you can create the design and content for your campaigns – more on this in step three.
Audience (formerly Lists) is the section for, unsurprisingly, managing your mailing audiences/lists. We'll discuss this in step two.
Reports – also a pretty self-explanatory section – is where you can review your campaigns' performances. Basically, you can see who is engaging with what, and use this information to optimize your campaigns. We'll go into more detail on reporting in step 8.
Content Studio is a pretty new section since beginning of 2019 that gives you a better view on your creative assets, like uploaded images, gifs, logos, etc. Super simple, so we won't go into further detail.
We'll explore the first four sections, as well as some extra powerful advanced features, throughout this post.
So let's get started! 👊
---
2. Build your lists and set up your signup form
After signing up, Mailchimp will walk you through setting up everything for your account such as your website, connecting social media accounts, etc.
You can even connect your online store to Mailchimp, if you work in e-commerce. 🛍
But after all of the administrative stuff, it's time to roll up your sleeves and get down to business!
The first and probably the most important thing you should do when setting up Mailchimp is to build your mailing lists – clean, up-to-date lists of the customers, leads and business connections you want to communicate with.
After all, engaging your customers (and potential) customers is the point of getting Mailchimp in the first place, right? 😉
You can start with just one list, but feel free to create as many lists as you see fit – something to note, though: if you have the same contact across multiple lists, that contact will count separately toward your overall subscriber limit, as the lists aren't connected.
You can, of course, segment and tag your lists – more on that here.
This is how Mailchimp's pricing structure works – so don't go too overboard with adding the same contact to multiple lists. It can get very messy very quickly!
No contacts yet? Mailchimp has you covered. 👍
It automatically generates a signup form for every list you build – you can then use this to get more subscribers. Share it on your website, social media channels, wherever you'd like.
You can even customize these forms using the Form Builder.
Here's how:
1. Go to the Audience page
2. Select the right Audience at the top left, then hit Manage Audience at the top right and choose Signup forms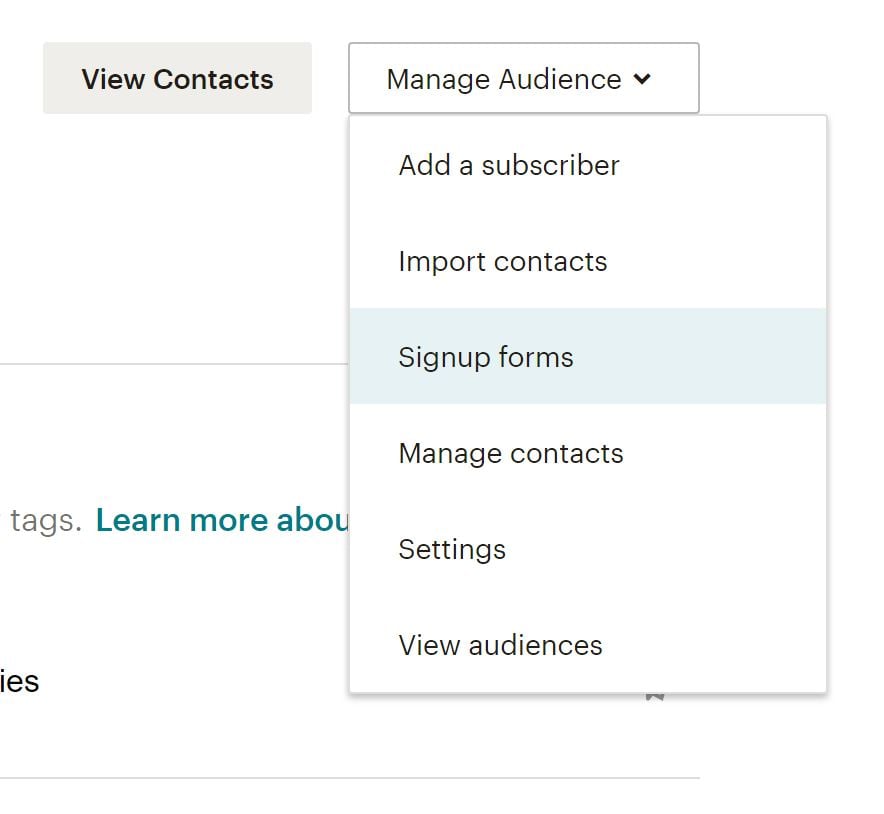 3. Select Form builder

4. Click the Forms and response emails drop-down menu, and choose which form you want to edit
5. Click the Design it tab below
6. Click through the Page, Body, Forms or MonkeyRewards tabs to review the customization options; use the fields and drop-down menus to make any changes you want to the styles, colors and fields – Mailchimp saves your changes automatically
When you're happy with the design, click Save & Close. All done!
Copy the code for your form and share it across all of your online channels. 🎉
---
Email newsletter or personal emails at scale?
Before we get started with learning how to create email templates and send email campaigns, I'd like to quickly check whether you're in the right place.
Are you looking to:
Send an email newsletter

Or send personal emails at scale?
If you're here for option 1, read on! Mailchimp is great, or there are other newsletter software options for you. We use Mailchimp for our newsletter too. (You can subscribe to our newsletter on our blog's homepage if you're interested!) Go on and skip to the next section!
If you're here for option 2, you might want to consider another option.
The upside of using Mailchimp for this purpose is that you can email thousands of people at once, fast.
The downsides of using Mailchimp for this are that:
Your email won't look really personal. The trained eye (and people are trained nowadays at detecting mass email) will always see it's a mass email.

It won't land in your audience's priority inbox. Mailboxes like Gmail and Outlook nowadays sort emails sent with an email service provider in a tab called "Promotions" or "Other".

This also results in lower open rates (and hence fewer clicks and replies too).

And as Mailchimp has to deal with quite some misuse (by a small but sizable group of people), this can also cause your email to be more likely to be caught in a spam folder.
So what's the alternative that doesn't have all these downsides? You can send these emails straight from your own inbox, in a personal way and at scale. Yup, there's software for that too!
Just check out our guide on how to send mass emails at scale that look personal. We'll explain to you how to go about this step by step!
---
3. Create your first email template
When it comes to email marketing, you can hear a lot about design, templates, campaigns, etc. But what's the difference between templates and campaigns?
As touched on earlier, Mailchimp's templates feature is essentially where you can design reusable layouts for your content, whereas campaigns are for sending out the actual messages.
Fortunately, Mailchimp makes it easy for you to reuse campaign designs or replicate existing campaigns, but when using the tool, it's usually best to put reusable content in templates and message-specific content in campaigns.
Now, let's talk about how to use templates! 💪
As you'll see, there are plenty of preset template options available from Mailchimp. Feel free to use these as you're learning how to build well-designed templates.
However, you can also start from scratch and create your own template to match your branding and style.
Mailchimp even saves images that are uploaded on your account, so you can reuse them in future templates.
The process of building a beautiful email template is relatively simple, as Mailchimp gives you the option to drag-and-drop content blocks into your newsletter.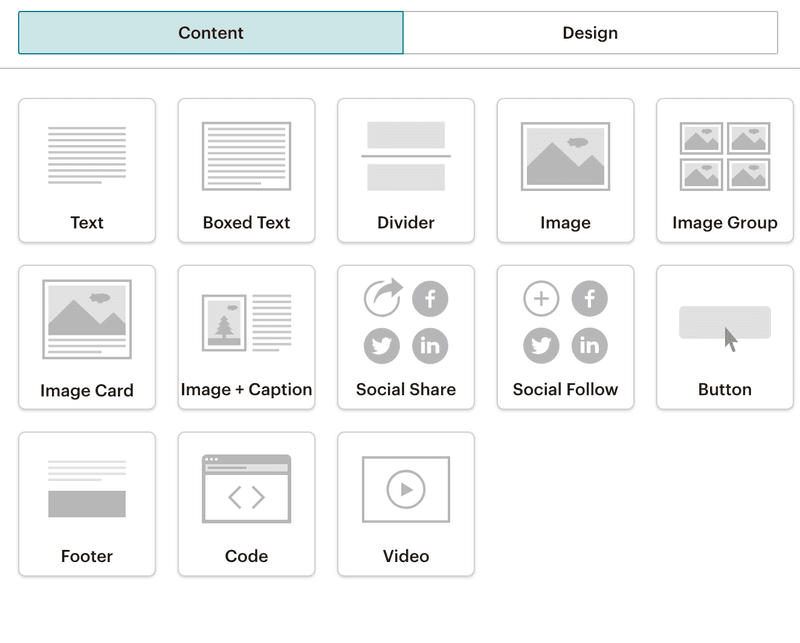 As you can see, there are a ton of options available here. From explainer videos to images to call-to-action buttons, it's easy to create an email with dynamic and interesting content.
Mailchimp saves your work as you go, and when you're done, you can save and exit the editor.
Tip: Don't forget to add merge tags! The data you've added to Mailchimp such as logos and your business address are saved under merge tags and help you add branding without needing to re-enter information every time. Here's an awesome merge tags cheat sheet from Mailchimp to help you get started.
Once you've designed the perfect email or landing page, now it's time to send it out to your audience!
---
4. Create your first campaign in Mailchimp
Campaigns are where you're going to send out your message to your audience – whether it's an ad, landing page or email – so let's dive into how we can do this!
An example: let's say you want to create a newsletter and send it out to your audience. Once you've developed the newsletter in a template, it's time to create your first campaign.
To create an email campaign:
1. Go to Campaigns and click Create Campaign
2. Select Email, enter a campaign name and click Begin
3. In the To section, click Add Recipients and select which list you'd like to send the email to; you can also select specific segments or tags within the list if you've segmented your audience in a certain way
4. Click Save and move on to the From section; enter the name and email address you want the message to come from and click Save
5. Next, in the Subject section, click Add Subject and enter your subject and preview text for the email – write something that will make your email stand out! Click Save and move on to the next section
6. In the Content section, click Design Email and select the template you'd like to use for your email; Mailchimp will show you the editor page again so you can double check the content and make any last-minute changes to the design*
* If you prefer, you can also use this step to add content and design your email rather than using the Template feature for adding content earlier on – it's a personal preference
7. Once your content is good to go, you have the option to connect your Facebook and Twitter accounts to the message so that Mailchimp can automatically share your campaign to your followers – this step is optional
8. Finally, you'll see a bulleted list at the bottom of the page that summarizes the things you are and aren't including in your email; be sure to review this to make sure you are tracking everything you want to be tracking with the email
9. Click Send and confirm or, if you'd like to send the email at a later time, click Schedule and select the time you'd like your email to go out
Congratulations! You've just sent your first email campaign on Mailchimp!

With Mailchimp's different features, you'll quickly find that there are a lot of fun things you can do with your content, so take some time to play around with the tool and get comfortable with everything that's available to you.
The next few steps explore some of these handy features, so let's get to it.
---
5. Utilize automation, save more time
We're big fans of automation here at Salesflare, so it's certainly worth pointing out the email automation features available to Mailchimp users! 🤓
From sending onboarding emails to new customers to creating a workflow around welcoming new subscribers, there are plenty of ways to save you and your team more time with sending emails.
How do you access this feature? Let's say you want to welcome new subscribers to your mailing list:
1. Go to Campaigns
2. Create a new campaign and select Automated Email
3. From there, you'll see that there are a ton of automated workflows available; for now, select Welcome new subscribers
4. Give the campaign a name and select the list you want to use for the automation
5. From here, you can design your email and edit all of the settings to fit your preference; you can also add other emails to a workflow if you'd like to send onboarding emails as well, for example. (to get here, click "Use advanced settings" at the top left)

6. Once everything is set up, click Next and double check all of the settings before clicking Publish
Boom! You're now sending automated emails to your new subscribers without lifting a finger. 💆‍♀️
---
6. Experiment with A/B testing
Are you conflicted with which subject you should use for your email? Maybe you want to test different copy on the call-to-action buttons?
Mailchimp understands that businesses want to put their best foot (read: email) forward, so you can use A/B testing to make this happen!
A/B testing campaigns are built in a series of steps, just like other campaign types.
Note: Mailchimp recommends testing combinations of at least 5,000 recipients to get the most useful data from the results. If you don't have that many subscribers yet, not to worry. You can still set up a test, but be aware that the data might not be as accurate.
To create a new A/B testing campaign, follow these steps:
1. Go to Campaigns
2. Click Email, just as if you were creating a regular email campaign
3. Select A/B test
4. Name your campaign and select the list you'd like to email
5. Click Begin
6. Choose the list or segment you want to send your campaign to
7. Then, we start selecting variables to test; choose from Subject line, From name, Content and Send time

8. Click the Plus or Minus icons to add or remove variations of the variable; you can test one variable with up to three variations
9. Each variation will generate a campaign combination as shown in the Summary; for example, to test three subject lines, you'll need to create three combinations of your campaign

10. Under How should we split your recipients?, click and drag the slider to set the percentage of your recipients you want to send your test combinations to; review the number of recipients that will receive each combination in the Summary

Note: If you're testing Send time, you'll only be able to send to 100% of recipients on your list.
11. Choose whether to determine a winner based on open rate, click rate, total revenue or manually; then, choose how long you want the test to run

12. At the end of the test phase, Mailchimp will send the winning combination to your remaining recipients
13. Enter in your variation content in the field provided; send time variations settings also appear on this step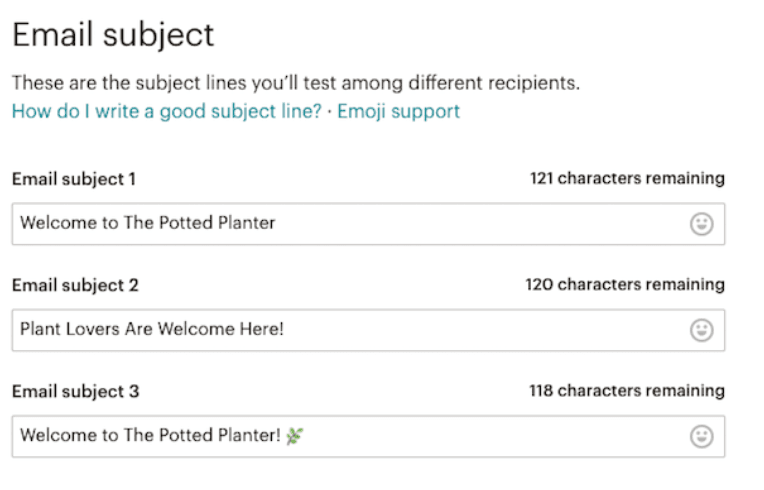 14. Check the boxes next to your preferred settings or tracking options to include
15. Test Subject Line, From Name, or Send Time
15a. Choose your layout on the Template step of the Content Builder
15b.On the Design step of the Content Builder, design and test your campaign
15c. When everything is how you want, click Confirm before sending
16. Test Content
16a. Click Add Content for a variation of your campaign
16b. Choose your layout on the Template step of the Content Builder
16c. On the Design step of the Content Builder, design and test your campaign; when everything is how you want, click Next
16d. On the Description step of the Content Builder, type in text to describe the variation of the content; your subscribers won't see this description, but it will help you remember the differences between each variation
16e. Click Continue to content to return to your content variations
16f. Repeat steps 16a-16e for each content variation; on the Template step, use a different template or select a variation you already designed in the Previous Variations tab
16g. When everything is how you want, click Next
17. Confirm all of the information for your campaign and then schedule or send it
Account users with a Manager user level or higher will receive an email when a winner has been automatically chosen, or after four hours if you haven't yet picked a winner manually.
---
7. Unlock Mailchimp's full potential with integrations
There are plenty of great integrations at your disposal with Mailchimp, so be sure to connect your toolkit to get even more out of the product! 🛠
For example, you can connect lists to your WordPress site for more signups or even connect an event on Eventbrite to automatically add attendees to a mailing list. Additionally, Mailchimp to Looker Studio integration will help you visualize your email campaign results and create comprehensive reports for managers and stakeholders.
And since they have an API to build on, there are virtually unlimited possibilities.
Our personal favorite, of course, is the integration Salesflare has with Mailchimp through Zapier.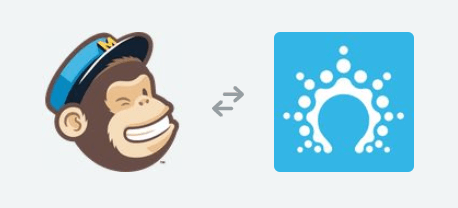 You can add new Salesflare contacts to a MailChimp list or even create Salesflare contacts, accounts and opportunities from new MailChimp subscribers. 😄
You can access Mailchimp's integrations directory here.
---
8. Use MailChimp reports to learn more about your campaign performance
Mailchimp's Reports feature lets you see how your audience is engaging with your content.
Simply go to Reports and select the campaign you'd like to see a report for. From there, you'll be able to see everything in greater detail and get a better idea of how well a certain campaign performed.
There are quite a few metrics you can look at, so here's a breakdown:
Recipients: Number of subscribers the campaign was sent to
Delivered: Date and time the campaign completed sending from Mailchimp servers
Open rate: Percentage of successfully delivered campaigns that registered as an open
Click rate: Percentage of successfully delivered campaigns that registered a click
List average for opens and clicks: Average percentage of opens or clicks on previous campaigns sent to this list
Industry average for opens and clicks: Average percentage of opens or clicks for campaigns in the selected industry set for your account
Opened: Number of recipients that opened this campaign any number of times
Clicked: Number of recipients that clicked any tracked link any number of times in this campaign
Bounced: Number of recipients that registered as a hard or soft bounce
Unsubscribed: Number of subscribers that opted out of your list using the unsubscribe link in this campaign
Total opens: Total number of times the campaign was opened by recipients; this count includes multiple opens from individual recipients
Successful deliveries: The number of recipients that didn't hard or soft bounce on this campaign
Clicks per unique opens: Percentage of recipients that registered as an open who also clicked a link in your campaign
Total clicks: Total number of times tracked links were clicked by recipients; this count includes multiple clicks from individual recipients
Forwarded: Number of times the campaign was forwarded using the Forward to a Friend form; this stat considers forwards only through the Forward to a Friend form and is not able to detect when a subscriber uses the forwarding function in their email program
Forward opens: Number of times the campaign was opened by someone who was forwarded the campaign using a Forward to a Friend form
Abuse reports: Number of recipients that reported your email as spam; subscribers that report a campaign as spam are automatically unsubscribed from your list
Last opened: The most recent instance of a recipient opening the campaign
Last clicked: The most recent instance of a recipient clicking a tracked link in the campaign
24-hour performance: A graph detailing subscriber activity (opens and clicks) for the first 24 hours after the campaign was sent
Top links clicked: The URLs that were clicked the most in the campaign.
Subscribers with most opens: Subscribers that opened the campaign the most times
Social performance: Provides a bird's eye view of how well your campaign is doing across different social media outlets
Top locations: Displays where in the world your subscribers are opening your campaigns
There are a lot of metrics here, so just take some time to review all of them and get a better idea of which metrics you'd like to focus on improving over time. 📈
A/B testing, as mentioned in step six, is perfect for testing different variables and determining the best formula for successful email campaigns – the stats for all A/B testing are also included in campaign reports.
---
9. Bonus: Enjoy Mailchimp's quirky Easter eggs
Mailchimp is a weird company – in the best way. 🤗
Whether or not you've used the product in the past, you've probably heard of them in one way or another.
If you're a podcast fan, you might recall the (in)famous Mailchimp ad that took on a life of its own in season one of Serial.
It became a meme and even inspired a hilarious remix of the ad.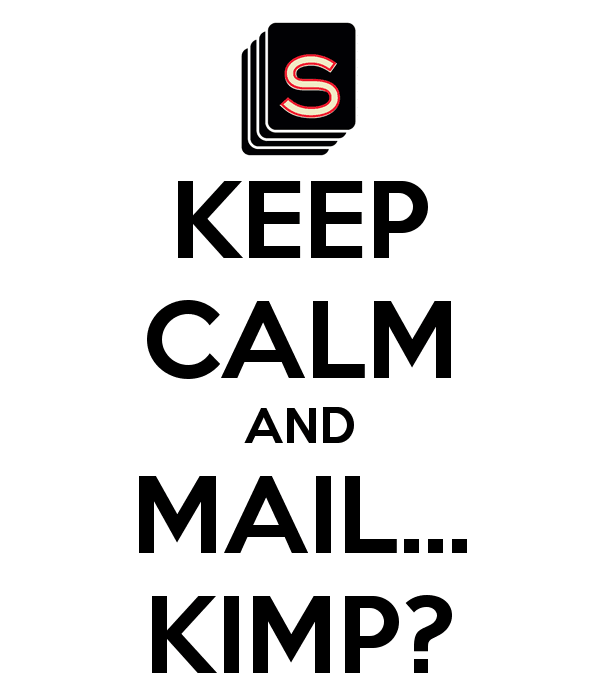 They always do wacky, fun and downright strange things to promote themselves, including a campaign where they released films and web content around names that vaguely sound similar to Mailchimp, such as JailBlimp and WhaleSynth. 🐋
There used to also be Paper Buddy projects you could create after sending out a campaign – among many other delightful little hidden gems, usually featuring beloved mascot Freddie.
Basically, Mailchimp is a company that knows how to have fun and wants their users to have fun, too.
See if you can find some other little hidden gems around their website! 👀
---
There you have it! Use this guide to get started with Mailchimp and send engaging emails to your customers and leads. 👏
While this guide covers the bulk of the features within Mailchimp, there are plenty of other things to explore and try out for yourself.
Fortunately, they offer a great knowledge base designed to answer all of your burning questions about a wide variety of features and topics – so what are you waiting for?
Happy emailing! 💌
---
Again, if you're looking for a Mailchimp-style lightweight sales CRM that you can easily hook up to Mailchimp: check Salesflare out! We'll take good care of you.
We hope you liked this post. If you did, spread the word!
👉 You can follow @salesflare on Twitter, Facebook and LinkedIn.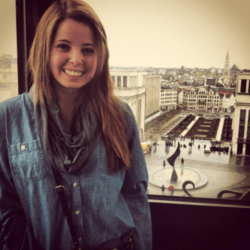 I'm a fintech-turned-SaaS marketing expert who is passionate about design, automation and all things digital.
View my full profile here
.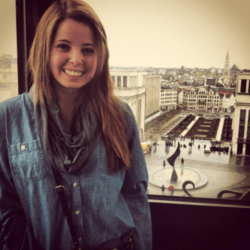 Latest posts by Ali Colwell
(see all)