Design Thinking 101: what SaaS companies can learn from design sprints
There's been a lot of hype in the tech world around design thinking.
But what is design thinking? And what can we learn from it?
Better yet, how can SaaS companies use and implement it?
Let's get started! 👇
---
So, what exactly is design thinking?
In a nutshell, design thinking is an iterative and flexible approach that focuses on better understanding users through design and collaboration.
It's all about putting forward ideas that emphasize how your users think and behave.
Design thinking allows your team to explore real issues that real users want to solve. 🙌
And you can do this through series of iterations and prototyping that ultimately bring forward updates to your product(s) that make your customers happy.
This process also allows your company to find alternative solutions or strategies that may not have initially come out of the original design.
As you may have already noticed, design thinking is all about the users, or customers, of a product. It is built with empathy in mind.
Because, after all, some of the best products out there today are also some of the most human-centric products as well. 👫
Since it's a collaborative process and is intended to be iterative, there is quite a bit of brainstorming, prototyping and testing involved.
---
What is the design thinking process?
With all of these different aspects of design thinking, it's easy to get confused or get a little lost. 🙇‍
But definitely keep in mind that there are several different ways to label this process, and many resources will have different names for these steps, but the execution of each step is still intact.
You can think of the process in three overarching phases: Understand, Explore and Materialize.
So let's break it down step by step.
---
Understanding the user
Empathy
First thing's first: you need to better understand your users.
Empathy is a major part of design thinking — because it's the key to thinking of human-centric solutions. 💛
Research, observe and even interview your users. Put yourself in their shoes.
Try to figure out what they want or some of the problems they're trying to solve in their daily lives, what motivates them and how they experience your company — then try to figure out how your company make their lives easier.
It's important to put your own assumptions and biases aside and really try to gain insights into how your users think and feel.
And while the amount of time you should spend on this step greatly depends on your own time constraints, do your best to gather as much information possible before moving to the next step. ➡
Sprints in design thinking are best if they take around a week in total, though some companies prefer two-week sprints.
The more information you gather, the better you can understand your users and their needs.
Definition
Based on all the great information you gathered in the first step, you can now start to identify and define the issues that you want to address for your users.
Analyze and then synthesize these findings in order to get to the core of what your users want — this usually comes in the form of a human-centric problem statement.
These problem statements combine three elements — user, need, insight — and turn them into addressable questions to tackle. 🤔
Examples of problem statements:
How might we help users onboard faster?
How might we make our customer service more efficient?
How might we make our how-to guides more exciting?
These problem statements make the ideation process (our next step) much clearer.
It also makes it easier to define the how rather than just the why — which helps you get to the heart of users' needs.
---
Exploring possibilities for your users
Ideation
Now that you've determined the things you want to tackle, this stage is where you start to come up with ideas. 😁
You now better understand your users thanks to the Empathy stage, and you've identified what you'd like to solve in the Definition stage, so now it's time to figure out how you're going to make it happen.
There are many ways to go about this step, as there are methods ranging from Brainstorm to Worst Possible Idea to SCAMPER.
Use what your team prefers, or what you feel will help you find the best solutions. It's even better if you use a mix of methods during this step.
Gather as many ideas as possible in the beginning, then start to discuss and determine which ones you'd like to try out.
Prototyping
It's now time to produce examples of your ideas!
Prototyping is the opportunity for your team to create stripped-down, inexpensive versions of the products/features you want to test. 💪
This allows your team to explore the solutions they came up with in the previous stage in a more tangible way.
Once created, prototypes can be tested within the team or with another department in the company in order to determine the best possible solutions that emerged from the first few stages of the process.
At this point, your team can determine whether each idea is accepted, rejected or improved and re-evaluated. ✅
In order to move to the next stage, the team should have a better idea of the constraints and problems of the product/feature in order to better inform them how actual users will likely feel with the final version.
---
Materializing your ideas for users
Testing
Once the best ideas are determined from the prototyping phase, it's time to test them!
Gather user feedback, monitor any changes in engagement or usage of your product/feature and try to determine how much this change has improved the experience of your users. 😍
It's entirely possible that you will continue to make improvements as you start to get user feedback — the process is designed so that you can iterate and adapt as needed throughout.
Implementation
Finally, once you've successfully tested your new product/feature, it's time to officially implement it as a permanent addition to your company.
The things you address for your users during this process can always be revisited if another problem arises. It's a cycle — so the quest for a better user experience can continue as much as you see fit.
What are we supposed to learn from this?
We've touched on the fact that design thinking uses empathy to better understand your users, but it also helps you reinforce the feedback loop.
By empowering your users to give more feedback and try out more new features or products, it makes them feel seen and listened to, and it makes for happier, more satisfied customers in the end. 🤗
---
How could this apply to SaaS?
Design thinking can be applied to a variety of industries and organizations — including within SaaS companies. 👍
Perhaps you're feeling stuck on how to make your onboarding process more streamlined?
Or maybe there's a particular new feature you aren't sure how to implement?
Design thinking can address these problems and so many more.
It not only allows your company to establish more trust between you and your current users and more credibility between you and prospects, but it also helps your company think outside of the box a bit.
Once you remove yourself mentally (and emotionally) as an employee and really put yourself in the shoes of the user, you're able to have a clearer vision of what needs to be improved or created in order to make your users have the best experience possible. 🤟
User experience can sometimes fall to the wayside when building a business.
There are so many other things to think about — administration, staffing, building the actual tech around the product, marketing, etc. so it can sometimes lead to a lack of empathy toward your users. 😓
Don't do that.
Instead, think about the things your users are giving you feedback on (and if you aren't collecting any type of feedback, get on that right now) and start to think about what you can do to tackle their issues.
Whether it's offering clear, visual data or a navigation that makes sense, design is a crucial part of a product's success — so make sure you're giving them the best possible product, both in terms of tech and in terms of usability.
---
OK, I want to try this with my company. How do I get started?
There is a vast amount of knowledge and resources on design thinking available online — yes, surprising, I know. 😅
But really the first thing you should do to get started is to discuss with your team that you'd like to try this method and have everyone "buy into" design thinking.
That's not to say that you're trying to sell them snake oil or are asking them to join a cult, but it's important for your team to be in the right mindset when trying to learn from users.
Design thinking sprints can take a lot of creative thinking and requires the ability to have an open mind — so it's good to at least give them a head's up about the purpose and process.
A great resource to help you and your team learn more about design thinking itself is Stanford D.School: A Virtual Crash Course in Design Thinking, but as mentioned, there are tons out there.
If you're interested in trying design sprints with your team, there's an excellent Google Ventures page all about design sprints and some resources to help get you started as well.
Happy design thinking! 🤘
---
We hope you liked this post. If you did, spread the word!
For more hot stuff on startups, growth marketing and sales: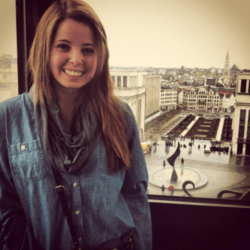 I'm a fintech-turned-SaaS marketing expert who is passionate about design, automation and all things digital.
View my full profile here
.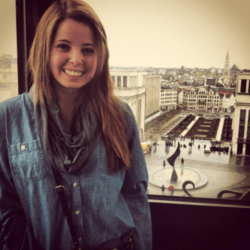 Latest posts by Ali Colwell
(see all)