Salesforce vs Zoho vs HubSpot vs Pipedrive vs Salesflare: what's the best sales CRM for small businesses?
A structured comparison of the leading alternatives
With 640+ CRMs available in 2023, finding the right CRM for your small business can be quite daunting.
You're now comparing a few alternatives and might want to know which one will be best for you, without having to try each of them extensively.
Even though we'd recommend you to actually do that, we have gone through that pain on your behalf and have gone through trials of Salesforce, Zoho, HubSpot, Pipedrive and – of course – Salesflare.
We've structured each of the CRM reviews by criteria, so you can easily see how each CRM compares.
Additionally, we've added the honest review of a small business sales pro, who took the time to test 4 of the 5 covered CRMs actively in parallel for a week.
Here's what we'll cover
First off, we'll have a look at each CRM alternative in detail:
About X: No good software comparison is possible without understanding the company offering this software. We'll analyze the company, which customers they serve and why they do what they do.
User experience: If you're a small business, user experience should be top of your requirements. What good is software if you're not using it and getting practical benefits from it?
Mobile accessibility: In 2019, one expects to be able to run his/her business from the phone. Even if you spend most of your day at the computer, nobody likes to be tied to it at all times.
Automation capabilities: Want to make more sales in less time? Of course you do, and a CRM can/should help. Its main role is to help you to organize and automate your sales work.
Pricing: What money do you have to pay for all this value? As every app prices differently, we'll take a dive into the pricing plans and how they actually compare.
Support: Finally, what can you expect if you need help? What type of support can you expect, how quickly will they respond, and what will it cost you?
After this we'll briefly compare each set of CRMs separately:
Don't want to read up on any details? Just click to your comparison of choice above. You can always get back to the details.
Don't take only our word for it
However unbiased we tried to write this comparison, we wouldn't expect you to base your decision only off what we believe makes the best sales CRM for small business.
That's why we included a complete, honest and uncensored review of an independent party (now a happy Salesflare user) at the end of each CRM section.
To make the right decision for his business, Stephen Sexton, Director of Partnerships at NowADays Media, tried 4 different CRMs in parallel for a week.
Here's the review he published after his grueling trial marathon:
A few weeks ago, I posted in a few groups on Facebook asking for advice on a CRM for a small agency I had just joined. I got some great feedback, but ultimately decided I'd have to figure it out myself. Based on feedback from the members of those groups, my final four were:

– Zoho
– HubSpot
– Pipedrive
– Salesflare

After pouring through reviews, demo videos, free trials, and all the like, I decided the best way to make a decision was to test each CRM individually, simultaneously, and side-by-side. So, I set up and ran my sales ops on 4 different CRMs simultaneously for a week (you read that correctly), and yes it was a huge pain in the ass and a terrible idea to begin with. But hey – my pain is your gain.

Quick business context and shameless plug/ I recently joined an influencer marketing agency to establish and scale their outbound sales. We essentially fabricate social media virality for our clients. We create and run large-scale guerrilla social media influencer campaigns that create organic viral buzz about our clients. This typically snowballs into some pretty crazy ROAS for our clients. Message me if you're curious about it. /shameless plug.

The challenge with the above business model is that we usually work with big, complex companies, doing big, complex campaigns, we have a long, complex sales cycle, and we take a pretty personalized approach to sales on top of that.

The reason our model makes finding a CRM challenging is that most CRMs seem to cater to high-volume and high-velocity sales. My experience has been that most CRMs develop their tools with SaaS-type companies in mind.

With all that in mind, here were the results.
Read on at the end of each CRM section to learn more about Stephen's verdict on that CRM.
You can also analyze this breakdown of the review scores by hundreds of users on G2 to find out how they score each CRM in this comparison (excluding Zoho; we left it out as it scored significantly lower than the 4 others and we could only select 4 CRMs in the comparison):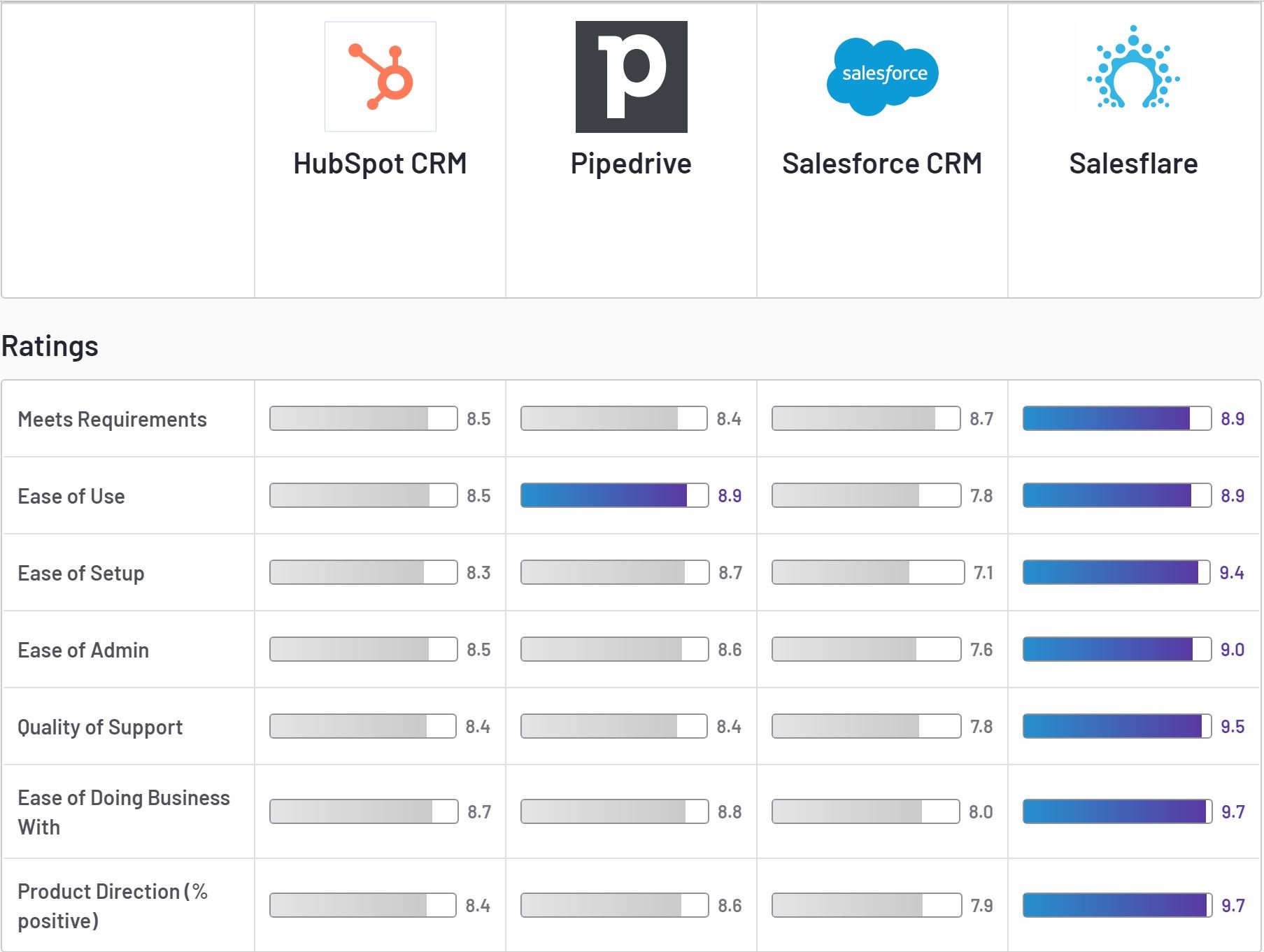 ---
Salesforce
About Salesforce
Salesforce is by far the biggest CRM company in the world, controlling about 19% of the market in 2019.
It was founded in 1999 in California by an ex-Oracle executive.
In the first few years of its existence, Salesforce focused on serving small businesses, helping them bring their old school on-premise CRM databases to the cloud.
Over the years, however, its focus has primarily shifted to larger companies, adapting their software for the big corporates of this world.
Nowadays, Salesforce offers a huge platform to enterprises that basically consists of a set of building blocks with which you can build anything, gives the possibility to customize everything, and the promise to connect to whatever other software you're using.
A Salesforce implementation typically requires a consulting company to map the business needs and workflow, build all this in Salesforce, connect with other software, train the employees and follow up with additional changes afterwards.
This doesn't hold Salesforce back to also offer their software to small businesses in a version called Salesforce Essentials, which is essentially a limited version of the full platform.
User experience
While around the year 2000 Salesforce's user experience would be a revolution versus existing players, it had slowly traded its user experience for extreme customizability.
In 2015, Salesforce overhauled its user interface to bring a bright new Lightning Experience to its customers.
A contact in the classic Salesforce experience looked like this:
Since the introduction of the Lightning experience, it looks like this:
And here's how an account looks:
While the look and feel clearly has changed, the basics and the focus on extreme customizability have remained in place.
Screens are built up with a series of blocks in which you can find more blocks, tabs and links to other screens.
This is of course inherent to Salesforce's extreme customizability. You can't both have generic and adaptable screens… and also provide a seamless and pragmatic user experience.
It's always important to keep in mind that Salesforce prioritizes the needs of (usually larger) organizations over the needs of its end users.
Nonetheless, compared to competing enterprise CRMs from SAP, Microsoft and Oracle, it still provides one of the more modern experiences.
Mobile accessibility
Salesforce offers a simplified mobile app, which has a similar design to its Lightning Experience shown above.
It allows you to do basic actions on contacts, accounts, and opportunities; this includes editing, deleting, creating a task, logging a call, and more.
Sending list emails, changing settings, creating reports, etc. are not possible from the mobile app. For these things, you are always dependent on your laptop.
Still the navigation menu with things you can access is quite long (about 2,5 screens long on a larger phone).
Automation capabilities
The possibilities in terms of automation with Salesforce are endless: from automating workflows and approval processes within Sales Cloud, over automated sales campaigns with Salesforce Engage, marketing automation with Pardot, and automated dialing with Salesforce Lightning Dialer, to outbound sales automation with High Velocity Sales.
You will probably need a consultant to come in to set it up for you and a trainer to get your sales team up and running, but whatever you need, it's there. And if it isn't, you can still search for the right software in the Salesforce AppExchange.
Do note however that every of the above-mentioned automation tools comes at an extra price on top of your Sales Cloud plan of choice ($25-$300 per user per month). To give you a quick idea: High Velocity Sales will set you back $75 per user per month, and Pardot up from $1,250 per month (for the basic functionality and up to 10k contacts).
Pricing
As just mentioned, a plan on Salesforce Sales Cloud will set you back between $25 to $300 per user per month, depending on the feature set.
Connecting to Salesforce's API is for instance possible from the Enterprise plan at $150 per user per month, or on the Professional plan if you pay an extra $25 on top of its $75 per user per month.
Depending on what features you need on top of Sales Cloud (like the automation features) or next to Sales Cloud, the package you'll have to go with may be different.
It's frankly hard to summarize and we therefore have to refer you to Salesforce's very own pricing wizard.
Support
Just like with the automation features, the level of support you get very much depends on how much you are willing to pay.
Salesforce's pricing pages are not very clear about this topic. What is clear is that "24/7 Support and Configuration Services" only come on Salesforce Sales Cloud's Unlimited Plan, at $300 per user per month.
The standard support on the lower plans is online support during weekdays and has a response time of 2 days. For additional and quicker support, you can buy one of the 3 support packages, starting at "20% net". More info on the Success Plans pricing page.
How one of our users put it
Stephen Sexton, Director of Partnerships at NowADays Media, tried Zoho, HubSpot, Pipedrive and Salesflare in parallel for a week, but did not take Salesforce into his comparison.
He shortly explains why he didn't include Salesforce in his comparison:
It didn't fit our use case. Salesforce has a super robust offering, but it's not well equipped to satisfy a small team. It's way too overpowered and overpriced for what we need.
---
Zoho
About Zoho
Zoho Corporation is an Indian software development company.
It's the oldest company in this comparison, as it was founded in 1996 by Sridhar Vembu (owning 88% of the stock with his family) along with two siblings and three friends.
It only launched Zoho CRM in 2005, followed by a large series of applications, like Projects, Creator, Sheet, Docs, Meeting, and many more.
Zoho virtually makes everything, from accounting software, over bug trackers and HR solutions, to a mobile device management suite. You name it, they make it.
In the CRM space, Zoho has historically been positioning itself as a cheaper alternative to Salesforce.
Like Salesforce, its primary focus is on and its primary revenue stream comes from large enterprises.
Just like with Salesforce, you can have yourself be assisted by system integration partners and trainers, providing the necessary consultancy to get you up to speed.
Still, they also target startups and small businesses with Zoho One, a package that promises to offer you every single app you need in one place.
You can either sign up to this, or Zoho CRM, or Zoho CRM Plus. For the purpose of this comparison, we'll focus on Zoho CRM, which is the most comparable software compared to the other sales CRMs in terms of functionality and price levels.
User experience
Zoho's interface has changed a lot over the years. Its latest design has a dark navigation bar at the top and a classic white-grey interface below.
The navigation bar contains more tabs than we've ever seen on a navigation bar. And when you think you've seen it all: most of the tabs have been hidden behind the 3 dot menu.
Adding the 7 buttons at the top right and 9 more in the additional bar at the bottom, there's a whole lot to explore and navigate through.
The sheer amount of options seems to be what Zoho excels at. They won't shy back from showing it to you.
When going to the Contacts page next, we're greeted with a plethora of options yet again.
We land in canvas view and are immediately quite mind blown by the fact that we can create our own views. We don't particularly enjoy the fact that it's showing "n/a" everywhere, but that might just be us.
The accounts view has a similar look (with even more "n/a" mentions):
When opening up this account it looks like this:
As you can see by observing the scrollbar, this is a long page that lists all of the entities that are potentially linked to the account, all below each other, grouped by entity type.
It took us a moment to find out where the timeline was hidden, but we eventually found it in the newly introduced grey navigation menu on the left under "Timeline". While all other buttons in this navigation menu make that you scroll to a certain place in the right part of the window, the "Timeline" button brings you to a new page.
Again, if you need something with a ton of configuration options and buttons, you probably will find the right partner in Zoho's CRM. If we had to rank the CRMs in this comparison by ease of use (or by pleasure to use) however, Zoho would come in last.
Mobile accessibility
Just like Salesforce, Zoho offers a simplified mobile app. Compared with Salesforce, its design is quite plain.
It also has a weird bug that shows pink on every record and all over the navigation. We unfortunately could not solve it by restarting the app or changing the themes, so we had to include it in the screenshots.
Here's how the contacts look:
When checking out this contact, it looks like this:
You can do all the basic operations from the mobile app, like creating, updating, deleting, … entities and also adding notes, attaching files, viewing reports, and more.
More advanced things like sending email campaigns or checking up on their results is not possible from the mobile app. Nor is creating reports, changing settings, making exports, …
This means you're still dependent on your laptop when you're on the move.
Automation capabilities
Zoho comes with a ton of features, which includes automation capabilities too.
It may become a bit overwhelming to research and understand what's on which plan, so let us give you a quick overview of the main data automation and email automation features (at the time of writing):
Mass emails start from the Standard plan, although the amount you can send depends on the plan you're on
Scheduling these mass emails starts from the Professional plan
An Outlook plugin comes from the Professional plan (we found no mention of a Gmail plugin on the pricing pages, but we did find it on the help website)
Synchronizing Google Calendar starts from the Standard plan
Synchronizing your email inbox starts from the Professional plan
Pricing
As mentioned, Zoho CRM comes in different plans with increasing levels of functionality.
Assuming you'd like to get email sync, which is probably one of the main things you should expect from a good sales CRM, you'll end up on the Professional plan, which costs $30 per user per month.
If you however would like enriched customer data like in Salesflare, you'll immediately need to get on Zoho CRM's Ultimate Edition, which will set you back $100 per user per month and is only available with an annual contract.
Don't be surprised either if when subscribing you need to select an add-on to have your data backed up weekly (this confused us a lot: we thought that it was standard nowadays to always back up all data with point-in-time recovery, so you can restore it to the exact moment the database failed, without charging anything extra for this – apparently we were mistaken) for an extra $20 per month, or to get online training for $699 per user, or to get Premium support for $6 per user per month.
Support
If you're as confused as we were when putting Zoho to the test, you'll probably want to get support.
Zoho CRM comes with 4 different support tiers, depending on the kind of support you'd like to get.
If you don't like paying extra on top of the subscription price, you get email, chat and phone support during weekdays with a response time of 8 hours.
If you like to get the response time down to 3 hours, you need to get on a Premium support plan, which will add 20% to your license fee. Do note also that this option is only available if you are on an annual contract.
If you have more than 25 users, you can also opt for an Enterprise support plan that brings down the waiting time to 1 hour, but as this is a CRM comparison for small businesses, we assume that you will not be eligible for this.
How one of our users put it
This is how Stephen Sexton, Director of Partnerships at NowADays Media, put it after a full week of trying 4 different CRMs in parallel:
Zoho was easily the best value of the four. The CRM is functional and simple, and very easy to get started with. They demo the CRM with demo data, which gives you a great idea of how to set it up and use it. It's a very robust system – it has everything that I could possibly need a CRM to do functionally.

The UI is alright, pretty similar to HubSpot. Nothing too special. Zoho does have an extremely comprehensive offering built into the CRM – including quotes, vendors, POs, invoicing, etc. I could see it being particularly useful to sole proprietors and freelancers. Very robust.

It features some sweet reporting and analytics dashboards that seem very comprehensive and customizable. It also offers some cool gamification capabilities for people managing a team. Zoho has an insane suite of integrated apps that could be useful down the road, as well as many key integrations with 3rd party apps, and their own app marketplace – lots of good stuff, especially for specialized businesses. The price point is cake at $12 for a standard subscription, but in all honesty, I would plop down the $30 for Zoho One and get the full suite of apps. Their G Suite integration was pretty seamless and robust as well – a major plus for my company.

Where Zoho fell short for me was in pipeline management. The activity and deal views are straight up ass. Even when switched to Kanban, they both look awful and cluttered. I had this same issue with the UI for contacts, leads and accounts. It just looks messy and the navigation was slow for me. This little rub seemed to keep popping up – the user interface feels difficult, unintuitive, and cluttered. With a few weeks or months of practice and usage, I'm sure I could make it work powerfully, but it just felt…. meh. Workflow automation is limited to a pro plan as well, so I couldn't simplify my process much.
---
HubSpot
About HubSpot
HubSpot was founded in 2005 in Boston, by Brian Halligan and Dharmesh Shah. Prior to HubSpot, both were mainly active in the computer software industry; Halligan for instance used to be VP of Sales for the product that is now known as Microsoft SharePoint Workspace.
HubSpot started as a marketing automation company and was focused on only this for about a decade, until it launched its CRM and sales platform at the end of 2014.
While HubSpot historically has focused on medium sized companies, it has barged into smaller companies and enterprises as well after its IPO, working on both a freemium model and an enterprise sales approach to capture part of these markets.
Its goal is to provide an easier to implement CRM suite to non-enterprise customers. This suite is built up from a series of packages, which in turn have different pricing plans with different levels of functionality.
When comparing HubSpot to directly competing CRMs like Salesflare and Pipedrive, we have to consider that what's normally offered in one package, is split up between two different packages in the free CRM and the paid Sales Hub: features like email tracking, email sequences, email scheduling, calling, multiple pipelines, … are only available when getting the Sales Hub next to the CRM.
This immediately answers the question: why is HubSpot CRM free and why aren't others too? To properly compare with other CRMs, you need to take the paid Sales Hub into the comparison.
User experience
In HubSpot, everything starts from the Sales Dashboard. Above it, there's a big navigation menu containing all of the different packages in its suite. Things you didn't buy access to are indicated with a lock.
A typical contact record looks like this, with details on the left, a timeline in the middle and a bunch of other related things on the right.
An account record looks pretty much the same:
And lists of deals, contacts, accounts, tasks, … look like this:
Switching screens, for instance from contacts to deals or tasks, requires that you know your way around the large navigation menu and its submenus, which at times can feel daunting.
Creating entities, linking entities, attaching files, … works through a myriad of different mid-screen dialog windows or sidebars, like this one:
In general, we would say that HubSpot is rather straightforward to work with. If you are however looking for a lightweight experience, it might not be what you're looking for.
Mobile accessibility
HubSpot offers a much simplified mobile app, which allows basic actions on contacts, companies, deals and tasks.
You however can't view reports, track or create email sequences, upload files, …
This means you're dependent on your computer for many of the things you would expect to do from your phone in this day and age.
Automation capabilities
HubSpot has always offered quite some automation features, like email sequences, task automation, predictive lead scoring, …
Here's for instance how the email sequences look:
HubSpot has been at it for a while and most of its automation features are well implemented.
Most, if not almost all, of these features are however only available on higher plans.
Which immediately brings us to the next point:
Pricing
As mentioned in the introduction "About HubSpot", when comparing HubSpot to competing CRMs like Salesflare and Pipedrive, we have to consider that what's normally offered in one package, is split up between the free CRM and the paid Sales Hub: features like email tracking, email sequences, email scheduling, calling, multiple pipelines, … are only available when getting the Sales Hub next to the CRM.
To get started with the most basic Starter plan of the Sales Hub, HubSpot will set you back $50 per user per month.
If you want to make use of the above mentioned automation capabilities like task automation, or if you want to make fields required or use the Slack integration, you have to get the Professional plan that starts at $400 per month ($80 per user per month with minimum 5 users).
For quotas or lead scoring, you need an Enterprise plan, starting at $1200 per month ($120 per user per month with minimum 10 users).
Support
The free CRM comes with community support only, which means you only have access to forums to resolve your question. And to sales for sales questions.
In the CRM + Sales Hub situation, you get email support as from the Starter plan. If you like phone support too, you will need a Professional or Enterprise plan. Pricing as laid out above.
How one of our users put it
This is how Stephen Sexton, Director of Partnerships at NowADays Media, put it after a full week of trying 4 different CRMs in parallel:
HubSpot also happens to be a solid value, mostly because it's free. I received a lot of recommendations for the HubSpot CRM, but after using it for a week, I couldn't understand why anyone would recommend it, other than the fact that it's free. The UI suffers from many of the same issues as Zoho, but with a much less robust offering and suite of apps to compensate.

There were some upsides to it though: the UI felt slightly cleaner and less cluttered than Zoho. It also had an inbox built into the platform, which means fewer open tabs and (usually) better email integration. Workflow automation is unfortunately a paid feature, as is email sequencing.

One annoyance I had was that the CRM dashboard also has tabs for Customer Service and Marketing permanently attached and intermingled into the home bar, instead of only having sales-related tabs. You have to click the "sales" dropdown to find deal and activity views. Seems dumb. This immediately meant more clicking to find what I need. The deals view was much cleaner than Zoho however, as was the tasks/activities view. The Gmail integration was tight, and the free HubSpot Chrome extension was immediately helpful.

The thing I appreciated most from HubSpot was the cleaner UI, lots of open space while navigating so you don't feel claustrophobic, and its ease of use and setup

Overall however, HubSpot seemed like a great choice for companies/users where sales is ONE of the primary focuses, not THE focus. It didn't feel like it was truly developed to make salespeople happy and make their jobs easier – it felt like it was developed to get people using a HubSpot product before pushing them to new HubSpot products.

As a sales professional, that bugged me enough to pass on the good ol' free CRM.
---
Pipedrive
About Pipedrive
Back in 2010, Pipedrive was founded by two partners of a training and consultancy company, Timo Rein and Urmas Purde, who were fed up with enterprise CRMs who were built for organizations and managers, rather than for the end users (cf. our own review of Salesforce above).
They teamed up with three developers, who together with them form the 5-headed co-founding team of Pipedrive.
Until 2016, Pipedrive sold their simple solution at throwaway prices and in that way competed successfully with bigger and more complicated CRMs in the small business market.
Under the competitive pressure of many newer software companies and to not get too far behind in an increasingly fast evolving market of sales solutions, they have since been focused on adding higher pricing plans with more functionality (after increasing their original prices as well).
While Pipedrive was very much focused on small businesses for most of its lifetime, recently Pipedrive has mostly been adding its new features to its higher plans to get into bigger companies and increase the return for its investors.
When comparing Pipedrive with other CRMs, one needs to focus on the Advanced plan and leave the bare bones Essential plan outside the comparison.
User experience
Pipedrive's main and most popular screen has always been the sales pipeline:
While Pipedrive certainly did not invent Kanban boards, it might have helped to popularize this type of visualization in a CRM, to the extent that all CRMs in this review currently sport the same view.
Wherever you click from here – to deals, contacts/people, or organizations – you'll be met with a screen that has a bar on the top with a few buttons, a series of blocks with details on the left, and a timeline on the right.
This is how a contact/person (we're not sure how to name at it, as they have "people" stacked below "contacts" in the navigation) screen looks:
And this is how an organization looks:
All lists have a similar Excel-like look:
Not bad for people migrating from Excel, but nothing particularly inspiring either.
The dashboard feature hiding behind "Progress" in the navigation looks like this:
Everything is quite easy to find, unless you need to change something in the Settings, which has a series of tabs at the top, a navigation, and sub-navigations.
Overall, it's a pretty simple system to use and set up for salespeople.
Its lay-out hasn't changed much over the years, so what you see is what you get.
Mobile accessibility
Just like HubSpot, Pipedrive offers a much simplified mobile app, which allows basic actions on contacts/people, organizations, deals and activities.
You can't view reports, track or create email sequences, change any of the settings, get email activity notifications, …
This means you're dependent on your computer for many of the things you would expect to do from your phone nowadays.
Automation capabilities
While Pipedrive didn't have any serious automation capabilities for a long time, they have recently been developing features to catch up.
While email integration and automation are now advertised as two main pillars of Pipedrive on the website, next to its sales pipeline view, we can't help but admit that we often ask ourselves why Pipedrive isn't putting in a more serious effort in these fields.
On email integration:
The email synchronization with Gmail and Office 365 is not a native one and often lags behind on the actual inbox situation. It never is instant.
The way it handles email open and click tracking is not on par with most email tracking solutions on the market, including free solutions.
The email sidebar for Gmail only shows some simplified Pipedrive data. There is no email sidebar available for Outlook at the time of writing.
On automation:
Most of the customer data (the very basis of all automation) still has to be inputted manually. There's very little intelligence going on.
The main automation feature offered and advertised is workflow automation. It's like a very basic Zapier or Integromat version within Pipedrive, without the cross-application appeal of these systems. It also doesn't keep your contacts in sync.
As long as Pipedrive doesn't work more on the main functionality it advertises on its homepage, it strikes us as very confusing messaging.
Pricing
Pipedrive enters the market with its most basic plan at a very low price point, at $15 per user per month.
However, the first plan that starts being competitive with the other CRMs in this comparison is the Advanced plan, priced at $29 per user per month.
If you're interested to send mass email campaigns (called "email distribution lists" or "group emailing" in Pipedrive's case) or do one-click calls, you need to get on its "recommended" Professional plan which will set you back $59 per user per month.
Support
Pipedrive advertises 24/7 support via chat or email on all plans.
When we tried their support (just once, obviously not a statistically relevant test), we first chatted for a while with their chatbot, after which we got the message that their support staff was over capacity. Pipedrive support was marked as "Away".
On the Enterprise plan, at $99 per user per month, you can get yourself phone support and help with your set-up.
How one of our users put it
This is how Stephen Sexton, Director of Partnerships at NowADays Media, put it after a full week of trying 4 different CRMs in parallel:
This one was very tough. I initially started my search being pretty confident that Pipedrive would win. Pipedrive is a great product, and I had always suggested it to my sales leaders when working for bigger companies because of how easy it was to use, and how intuitive the design and functionality are. Initially, I started ONLY a Pipedrive trial because I was convinced it was all I needed. It wasn't until I had used it for a few days that I identified a few major shortcomings that were difficult to overlook.

At a high level, Pipedrive does everything you need a CRM to do. It has many of the functionalities of the big dogs like Salesforce, but it's way easier to use, way more intuitive, and less clunky. The customizability was pretty fantastic. It had an inbox built in. It had a Gmail integration, a full marketplace of apps, and prebuilt Zapier integration templates. It didn't LOOK like a poor CRM used as biz dev for other apps, like what Zoho and HubSpot felt like. It felt like it was built by salespeople to accomplish sales functions in a simple way.

The main view is a deal flow view, which I love. Importing data, updating deals, contacts and accounts, inputting activity… it was all very straightforward and simple. To me, Pipedrive took the best parts of Salesforce, and flushed the stuff that really sucks. It might sound like I'm a Pipedrive rep or something – if that's the case, it's because Pipedrive is THAT much of an improvement from most CRMs.

The decision ended up coming down to Pipedrive or Salesflare, and it was an extremely tough one. I really liked the company's brand personality. It's pro-sales, and pro-easy. If you google "promo codes for Pipedrive", they even built a hidden page on their website that says "We like smart people who search for promo codes. Here you go." It checked all the boxes and improved on all the gripes I had with HubSpot and Zoho.

What ended up tripping me up on Pipedrive turned out to be their email integration. Even though they had a 2-way integration, it was wacky, and if I wanted to do any kind of email or link tracking, I had to send the email out of Pipedrive. Not only that, but there was no kind of desktop notification for email opens, replies, link clicks, etc.

The reason that sucks is that unless I have the Pipedrive app open at all times, I might miss a hot lead who is clicking on my email/website. It also means if I had to respond to an email with my cell, that email wouldn't get tracked at all. It ALSO meant I could no longer use Gmail as my guiding productivity tool – my life had to be run out of Pipedrive if I wanted it to be effective.

To add to that downside, I had a very hard time getting support from Pipedrive outside of live chat. I was never offered a rep, I was sent a YouTube video when I requested a demo, and overall it felt like I was just a little fish in a sea of other Pipedrive clients. Which, granted, is true. But ultimately, it helped me make my decision.
---
Salesflare
About Salesflare
In 2014, Salesflare was founded by Jeroen Corthout and Lieven Janssen, after they grew frustrated with the different CRM tools they tried to use for their business intelligence software company.
Inspired by both the lacking user experience of enterprise CRM systems and the large dependency on manual data input in sales CRMs for small businesses, they set out to build a super easy to use CRM that automated all the customer data.
They figured that the data they were tracking in their CRM was actually already available in lots of other places: they could sync emails and detect email signatures, track opens and clicks, read email signatures, pull in meetings, automatically detect new sales contacts, integrate social data, enrich contacts and companies with publicly available information, and much more.
From the very start until today, Salesflare has been automating and simplifying CRM for small businesses, ranging from fast growing tech startups to marketing agencies.
Despite being the smaller player in this comparison, Salesflare is actively used by thousands of professionals in 60+ countries.
As a newer player in the market, it has been able to adapt better to modern needs. It also garners consistently high review scores on major review platforms like G2Crowd, across all different product measures, including implementation, relationship, usability and the total result.
User experience
When you try Salesflare for the first time, you are greeted by an interactive walkthrough that guides you through the essentials in a few minutes:
At the end of this walkthrough, you land on the sales pipeline screen:
Every different screen in Salesflare has a custom lay-out, adapted to visualize the specific entity you're looking at.
The contacts screen looks like this:
The accounts screen looks like this:
And the tasks like this:
Each screen is focused on its specific use. You never feel like you're (still) working out of an Excel file.
The navigation on the left makes that every different screen is easy to find and just one click away.
Mobile accessibility
Unlike every other CRM in this comparison, Salesflare offers all its functionality on every device.
Whether you're on your computer, your phone, your tablet, or even inside your email inbox with the email sidebar, all functionality is at your fingertips.
Want to send an email campaign or check up on its results? No problem at all.
The design is largely consistent across devices, which makes switching a breeze.
This is for instance how the opportunities pipeline looks on your phone:
The mobile app can also keep you up to date on everything that happens with live push notifications: whether it's a lead visiting your website live, a colleague sending a message about a customer, … you'll never miss it.
Automation capabilities
While most other CRMs offer automation on top of their basic experience, automation is the very basis of how Salesflare works.
Among other things, Salesflare automatically:
Creates contacts you have at prospective accounts and suggests them
Imports email signatures and social data for contacts and accounts
Reminds you to follow up accounts that go inactive, or to respond to emails you're forgetting
Keeps track of email opens, email clicks and website visits, whether you're emailing from Gmail/Outlook, or from Salesflare's desktop or mobile app
Can send emails (and even email sequences!) when deals reach a certain stage, a contact gets a certain tag, an account becomes inactive, …
Compiles timelines with all the touchpoints you had with customers from emails, meetings, calls, … even if those happened before you started using Salesflare or added the account
Salesflare's email integration with Gmail and Office 365 is fully native and pulls in emails before you even know they hit your inbox, without fault.
If you like to automate data and workflows across apps, Salesflare easily connects with Zapier, PieSync and Integromat.
On top of all its core of automated customer data, Salesflare keeps building more automation into the app, while always focusing to keep all this complex automation as easy to use as possible.
Pricing
Salesflare's pricing (per user per month) is simple:
Its Growth plan packs almost all of the features. It's $35 on the monthly plan, or $29 on the annual plan.
Its Pro plan takes it one level further with email sequences, permissions and custom dashboards. It's $55 on the monthly plan, or $49 on the annual plan.
Need enterprise level support? The Enterprise plan comes at $99, annual plan only.
These plans pack absolutely all everything, no surprises guaranteed. That means no arbitrary limits, no additional support charges, etc.
If you're an early stage startup, you can apply for Salesflare's early stage startup program. Just ask on the chat on our homepage.
Support
Salesflare guarantees live support via chat and email on weekdays.
This is however not restrictive. For things that cannot be resolved through the chat, or for training of teams with multiple people attending, the Salesflare team can jump on a video call with you. And urgent conversations can also be picked up outside the usual support times.
Next to your support contact, there's a support engineer standby to check out any more technical issues that you may be facing, so you're never left in the cold if things are more complicated.
How one of our users put it
This is how Stephen Sexton, Director of Partnerships at NowADays Media, put it after a full week of trying 4 different CRMs in parallel:
I stumbled across Salesflare on Product Hunt and was initially extremely skeptical. It was difficult to find reviews, press, or anything about the company at all. But after reading through the positive comments on Product Hunt (and then Reddit) I decided I should give it a shot alongside the others.

The first thing I noticed was how simple the UI and layout was. It felt similar to Pipedrive, but even cleaner. It didn't feel stifling, like Zoho, it didn't feel half-assed like HubSpot, and it didn't feel quite as heavy as Pipedrive. It felt light, simple, and clean.

The second thing I noticed was how easy it was to set up. I literally plugged in my work email, and it immediately started offering suggestions on contacts and accounts from scraping my inbox. I clicked over to tasks – my full schedule was already imported and ready to be checked off. It even had suggested tasks based on email content and length of time since an interaction.

I clicked over to accounts and contacts. There was a full suggestion list already ready for me based on my inbox. After adding a few, the CRM started suggesting OTHER contacts at the same company, without me having to lift a finger. People I didn't even know existed. In a matter of minutes, and with no major data imports, I had fleshed out my entire pipeline and contact list.

The G Suite integration was flawless – the best I've seen in a CRM (rivaled only by HubSpot), and easily the most useful. Also, it alerted me with desktop notifications whenever an email was opened or a link clicked. Salesflare also had a proprietary tracking script to receive notifications when a prospect was on my website.

Then I clicked back to accounts, selected an account, and audibly exclaimed. Salesflare had not only suggested all the contacts, but it had also automatically logged every interaction I had had with anyone at the company. It was about that point that I knew who I was going to pick.

The real clincher for me though was their support and upkeep. They released an awesome update during my trial that was based on user feedback. They also included a list of upcoming features. It was very clear that this software was growing, and had a long development roadmap full of upgrades ahead of it.

Then, I spoke to their support via Intercom. What support rep ended up answering my question within 3 minutes, you ask? The founder of Salesflare. After some back and forth, questions, and providing my own feedback on the software, my decision was made for me. Salesflare clearly cared about their product, their customer, and making sales management as easy and pain-free as humanly possible. I was sold.

And that's that! I ended up going with Salesflare and so far, have been extremely pleased. Feel free to leave any feedback or questions for me below! Would love to hear what you thought of my ill-advised experiment, and I'm happy to answer what I can.
Want to discuss further with Stephen? You can find his original post here.
---
Salesforce vs Zoho vs HubSpot vs Pipedrive vs Salesflare: quick pointers to choose between two of them
Salesforce vs Zoho
If you're choosing between Salesforce and Zoho, you're either looking for a CRM for a big enterprise or a small business owner prioritizing amount of functionality over ease of use.
Our verdict is simple: if you can and want to spend money, go for Salesforce and invest in the real thing. If you don't, give the low-cost alternative of Zoho a try. But don't blame us if you don't like it.
Salesforce vs HubSpot
While Salesforce can do literally everything, HubSpot will also offer you a lot of functionality in one place out of the box, containing functionality for sales, marketing and service departments… but not everything.
Salesforce is 100x more customizable and functionality rich, but will probably require consultants to set it up. HubSpot also has an army of consultants available to help you, but it's way easier to get going yourself.
Both software companies will make your bank account quite a lot lighter. Which one is more successful at that will depend on what you need and buy.
If you're an SMB looking for sales, marketing and service software, HubSpot may be the better choice. If you're looking for more and/or require enterprise grade customizability, Salesforce is what you need.
Salesforce vs Pipedrive
The question here is essentially: do you want something your management (and IT department) will like? Or something your salespeople will actually use?
Do you need a CRM that spans all departments? Or a CRM that is specialized for sales teams?
In case you prefer question number one more often, go Salesforce. Otherwise, go Pipedrive.
Salesforce vs Salesflare
The Force or the Flare? The comparison here is the same as with "Salesforce vs Pipedrive", where Salesflare is a sales CRM like Pipedrive, but even easier to use and more automated.
So, if you want the best CRM for your sales team, go Salesflare. If you want a big enterprise CRM that can do everything, go Salesforce.
Zoho vs HubSpot
While both software companies try to do a lot of things at once, Zoho covers way more ground than HubSpot. As soon their limited free plans don't serve you (anymore), you'll usually also pay way less at Zoho than at HubSpot for the same functionality,
Overall, we prefer HubSpot's user experience over Zoho's. But it's up to your wallet. If you really want one of these two CRMs of course.
Zoho vs Pipedrive
Talking about user experience, this is probably the main factor to consider when choosing between Zoho and Pipedrive.
It's a bit like when choosing between Salesforce and Pipedrive: do you want every possible feature on the never-ending list? Or do you want a sales CRM that your sales team will use?
Zoho vs Salesflare
Also here, user experience will probably be the guiding factor to decide between Zoho and Salesflare.
While Zoho might tick a few more boxes on your specs list, your sales team will almost invariably prefer Salesflare… and the chance they will actually use it will be much higher.
HubSpot vs Pipedrive
A CRM suite of "hubs"? Or a specialized sales CRM?
A limited free CRM with expensive upsells? Or a free trial and overall cheaper pricing plans?
These questions will ultimately guide your decision between HubSpot and Pipedrive.
HubSpot vs Salesflare
The same questions as above will guide your decision:
A CRM suite of "hubs"? Or a specialized sales CRM?
A limited free CRM with expensive upsells? Or a free trial and overall cheaper pricing plans?
If you need more than HubSpot's free offering, it will invariably be cheaper and better for your sales team to use a sales CRM like Salesflare.
This stays true when you start complementing Salesflare with other solutions, like for instance landing pages or email newsletter marketing. You'll be able to choose the best solution for everything, instead of only working with what HubSpot sells you. You can tie it together easily and in a more customized way with Zapier (or Integromat). And it'll end up cheaper.
Hit us up on the chat on our homepage with what you need and we'll suggest the right solutions.
Pipedrive vs Salesflare
Salesflare and Pipedrive are both sales CRMs. They're essentially practical CRMs that enable sales teams to organize their sales and close more deals.
Both are easy to use and easy to set up. And they both have a lightweight experience.
If you want a better email integration, extensive data automation, full functionality on your mobile phone, … Salesflare is your new best friend.
If you don't like automation and prefer inputting data manually, then Pipedrive is for you.
---
Conclusion
Looking for the right sales CRM for your sales team can be a daunting task.
The questions that will guide you are however simple:
Do you want to tick all the boxes on a long specs list, or find someone your team will actually use?
Do you want a free CRM now that will require expensive upgrades later, or start off right away on an affordable CRM?
Do you want automation, full mobile access and great support?
We wish you good luck with your choice! And if you like to talk about it, hit us up on the chat on our homepage.
We hope you liked this post. If you did, spread the word!
👉 You can follow @salesflare on Twitter, Facebook and LinkedIn.
I'm Co-Founder of
Salesflare
, the simply powerful CRM for small businesses. I love growth, automating sales, and building beautiful products.
Latest posts by Jeroen Corthout
(see all)