6 foolproof ways to get your startup its first 100 customers

Here you are. You've had a great idea, beaten all odds and finally found your very own startup.
Congratulations.
Guess all you have to do now is just sit out the hangover from last night's celebratory drinks and wait for all that cash to fly in 💸. After all, you've built a product that will fly off the shelves 🚀.
Hate to break it to you: there is no such thing as a product that sells itself.
You may think you just got past the hardest part, but getting your product market-ready is just the beginning. Your product may be the best thing to ever happen to earth, if no one is paying money for it, it'll be dead in the water in no-time. And you'll be lying right next to it, with another kind of hangover. Not a celebratory one.
In startups, nothing happens automagically. Unless you make it happen.

For the next 10 minutes you can just sit tight. We'll be laying out 6 strategies you can get started with today to land your first 100 customers. Then, you'll be out on your own again. Ready to launch your startup into the stratosphere 🚀.
---
1. Ask friends. And their friends. And their friends. 👫
Start with your existing network. Talk to the people you know and the people they know. It may not yet be a huge amount of people, but there should be a few interesting connections among your friends and family.
Ask about pains. Listen. Validate your idea. Don't go all-in on selling right away. You're still a startup and customer feedback is your magic potion to becoming the best you can be. Don't make the mistake of not drinking it. In early customer development you're not selling, you're learning.
Try to get ahold of the pains these people are experiencing with the concept you're trying to build a business around. How do you do this? What's great about it? What sucks about it? Have you tried anything else? What did you think?
This is not just to get your first customers. Chances are as an entrepreneur you're not the most smooth-talking sales man of all time. Trying to sell your product to people you're comfortable talking to is the first step to getting you in the game of becoming a natural at pitching.
In the process, aim to expand your existing network. People in your network are likely to have networks themselves. Look for:
Other business owners: they may have an existing customer base that is a fit for your product as well
Investors: if your startup has been funded, ask your investor to spread the word. Investors usually have great networks.
Ask for introductions. The great thing about networking is that you never know what you can get out of it. So, when you're standing there doubting whether you should talk to that one guy, keep in mind that that guy may have the network you've been dreaming of.
---
TL;DR
talk to the people you know and the people they know
ask about pains, listen, validate your idea
you're not selling, you're learning
get ahold of the pains
expand your network with other business owners and investors
ask for introductions
---
2. Blog away. ✍️
There's tons of reasons why you should start a blog. In fact, you should have started way before you started looking around for ways to grow your startup. But hey, better late than never, right?
People hate ads.
Ads follow people around. They're annoying and put off rather than attract. Blogs on the other hand still spark a feeling of trust and authenticity. It's the best way to tell your product's story.
Blogs generate need. Need generates demand.
Blogging is by all means a long-term strategy. It takes hard work and you won't see significant results right away. But it's worth it, because blogs have the unparalleled ability to slow-cook an idea into the heads of your readers.
The Kissmetrics blog is a terrific example of this idea. When I started out working with metrics, I couldn't see myself using anything else than Google Analytics. It's easy, it's good and it's free. But while making my way through startup marketing, I found myself regularly reading well-written posts over at Kissmetrics' blog. Stuff like 'Smart Marketers use Smart Metrics' or 'Key Customer Metrics You Need To Be Tracking'. Over time, I started to value metrics a lot higher and at some point I just went overboard. Let's check out Kissmetrics! Today, I'm not only using it, I'm recommending it to other people.
Blogs drive traffic.
Companies that blog typically have 97% more inbound links than those that don't. That's massive.
How? Some kind of SEO witchcraft. But you can easily get in on it.
Crafting quality content is the best way to boost your Google rankings on those keywords you've so carefully selected. Blogging puts you in full control of the type of content and keywords you want to be associated with. When starting your journey, you can choose one of these best free blogging sites that will allow you to put your work out there for everyone to see. If you're doing well, people will start linking to you, growing your online visibility and network. This in turn will lead to new opportunities. Once set up properly, your blog will be an autonomous traffic machine.
You can turbocharge this whole process by using guest blogging to build relationships with top influencers in your space.
Your shortcut to thought leadership.
With your writing, you should aim to become a contributor on reputable publications from your industry. This will allow you to tap into the power and network of already established communities.
If no one has ever heard about you, you have zero credibility. Awesome content, published and shared around on great sites will lay your first bricks towards building a reputation. If you're looking for inspiration to get started, Neil Patel is your go-to man.
---
TL;DR
people hate ads
blogging is the best way to tell your product's story
blogs generate need, needs generate demand
blogs drive traffic
crafting quality content is the quickest rank to make Google like you
turbocharge the process by guest blogging
your shortcut to thought leadership
---
3. Find your internet tribe. Blend in. 😏
Be where your customers are. The internet links billions of pages on every subject you can possibly think of to each other — and to people. Somewhere out there there must be a place where they're talking about your industry, niche or problem.
These are the places where the Internet is most alive and kicking. They drive social news, with up — and downvotes deciding whether something ends up on the front-page of the internet. This is the kind of news that tends to get a lot more traction with early startup customers than traditional news coverage would get you.

Find these communities and become part of the tribe. Look for places where people are either looking for a product like yours or asking questions you can help them out with. You'll find customers, trade advice, build network and sharpen skills. All of which will help both you and your business grow.
This is exactly how Zapier co-founder Wade Foster found his first customer in Andrew Warner. Warner is the founder of Mixergy, one of the best podcasts out there for entrepreneurs. Not bad for a first customer, eh? All it took was Warner posting about an ache he had on StackExchange, a forum for developers. Foster went in for the kill.

Foster reached out to Warner via cold email (more on that later) and the rest is history.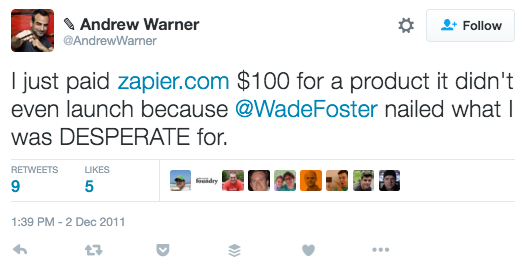 Here's some ready-cooked inspiration for you to go and connect with the like-minded:
Reddit
There's tons of cats, GIFs and memes on Reddit. There are also topic-dedicated forums, called subreddits. Hunt down the ones that are relevant to you and leave your mark.

Quora
Quora is meant to surface the best answer to every question out there. It was created for people to share the unique information that's in their heads.
Why do we sleep?
What are the best stories about people randomly meeting Steve Jobs?
What are some examples of animals showing unusual intelligence?
Quora holds a huge database of high-quality content and a living community of experts and influencers. For entrepreneurs, it's a great way to get quality advice and get in touch with early customers looking for answers. Just make sure you're right there when someone is asking that one question you have the perfect solution to.

Product Hunt
New apps and products are launched every single day. If you're always on the hunt for the best of the stack (like myself), you'll feel right at home at Product Hunt. It started out as a mailing list and quickly grew into a website where members could upvote the best new products to the top of the page.

Today, Product Hunt is a full-on community of tech enthusiasts that act as a launchpad for the new kids on the block. Getting featured is likely to get you a nice spike in traffic (euphemism) and at least a handful of new customers. Make sure to check out these best practices if you want to give it a shot.
Bonus
---
TL;DR
be where your customers are
you'll find customers, trade advice, build network and sharpen skills
unicorn story: Wade Foster reeling in Andrew Warner of Mixergy
reddit, Quora, Product Hunt
GrowthHackers, Growth.org, StackOverflow, DesignerNews, Moz
Facebook groups
---
4. Email in the cold. ❄️
"Stick a fork in cold email because it is done."
I've heard and read this many times. I found it to be untrue.
People who claim cold emails don't work, don't know how to write good cold emails. What is a good cold email? Whenever you're writing one, just ask yourself:
From the subject line: would I open this or would I instantly trash it?
Would I read this? Would I read this to the end?
Would I reply to this?

Boiled down, you'll find bad emails share these characteristics:
Salesy
Generic wording
No drive for a reply
Good emails are usually:
Contextual
Conversational and light of tone
To the point
Clear call-to-action
Flashback to Wade Foster and Andrew Warner. This is the email Wade wrote after finding out about Andrew's question on StackExchange:

Note how Wade is just striking up a conversation here, as if he was chatting with Andrew. In his reply, Andrew said he was in need of a Wufoo Aweber integration and whether Foster and his team had already built it. They hadn't at that point. But Zapier took care of it right away. Andrew was in.
If you're just starting out building up your network, you simply won't be able to do without cold email. It's a scaleable yet personal way of getting in touch with all kinds of people. Besides getting first customers, you can use it to connect with influencers, pitch to investors, build relations with partners and share with press. Just aim at making a real connection and make sure to stand out from the rest. Humor works like a charm.
A good way to increase your chances of landing in people's inboxes is to use an email warming tool. By properly maintaining and improving upon your deliverability rates, your outreach and engagement won't fall upon deaf ears due to being mistakenly classified as spam.
If you're looking to send reliable emails that end up in the inbox you need to make sure you use a clean IP address in your outbound SMTP emails. A good SMTP service like Amazon SES, Sendgrid, Mailgun or DuoCircle is recommended. Most services include a free monthly or one-time quota, so you may test them out. You will also need to make sure that you setup your DNS information correctly for SPF, DKIM and DMARC that reflects the SMTP service that you use, so your mail lands safely in inboxes.
I'll leave you with our guide on How to Send Mass Emails That Seem Personal, which goes into detail on how you can automate this as soon as you're ready for it.
---
TL;DR
email is still the backbone of the internet
only send emails you would open yourself, read (to the end) yourself and reply to yourself
avoid salesy, generic wording — include drive for reply
go for contextual, conversational and to the point with a clear CTA
use it for customers, investors, influencers, partners and press
aim at making a real connection
humor works
---
5. Give stuff for free 🆓
People love getting free stuff. As a business owner you might like giving free stuff a bit less. Good thing you don't care about money right now, right? You want to get as much people behind you and your product as possible. Free it is!
Beta-testers
If your product is SaaS, having users test it for free can be incredibly valuable. It will build up an initial user base and help you to refine your product-market fit. There's also an exclusivity to putting up your product for beta, which will help attract users once your app is really live.
One reason Slack was able to skyrocket from the very start was to hook up on initial media coverage by offering a beta-version to selected companies. Hell yeah, I want to be part of this thing that will kill email, sign me up!
If you feel all stoked and inspired right now, check out this great guide to get 100 beta signups for your app with zero dollars.
Free trial
Offering a free trial of your SaaS is not so much a tactic as it is a must. How would you expect users to start paying for your product if they have no idea what it feels like to actually use it? The threshold to try out your app becomes a lot lower. Free trials will drive users, traffic and virality.
Freemium
Another way of playing around with free stuff is to put up a part of your product for free, while excluding other, powerful features. Here's an example of Hootsuite, a popular social media management tool.

Hootsuite offers free plans for individuals who want to manage up to three social accounts. Plus business plans for those who need more.
This approach allows users to get to know the benefits of using Hootsuite with just enough main features to know that they want more.
This works because most social media users, even individuals, will have more than three profiles to manage. With plans starting quite low at $9.99, it's easy to give in and upgrade.
---
TL;DR
beta-testers will help you reach product-market fit and creates exclusivity
free trials drive users, traffic and virality
freemium is a proven winner
---
6. Affiliate marketing: pay your influencers 🤑
For the sake of getting a lot of users as quickly as possible, affiliate marketing can be a powerful strategy. The risk is low and the reward high. You only pay for actual conversions, not for traffic driven to your website. Real users at a limited cost.
Here's how it works:
Affiliate gets personal URL
To track which affiliate is driving the traffic
Affiliate markets your product
There's several ways they can do this. They can use paid traffic like AdWords, make a YouTube video or a podcast, send out cold emails, write blog posts etc. Possibilities are endless.
Visitor converts
One of the visitors driven by your affiliate ends up becoming a paying customer of yours.
Affiliate receives commission:
The affiliate receives a commission you agreed upon for bringing the customer to you.
You can think of affiliate marketing as outsourced marketing. Others bring in visitors and you only pay if those visitors become paying customers. On top of that it's great for SEO as you'll get content and backlinks from affiliates driving traffic to your website.
Affiliate partnerships are also a great way to get influential bloggers and KOLs (key opinion leaders) in your niche to write about you. Bloggers and influencers are all about passive income, so you can bet they'd at least be interested if you offer them real money.
PartnerStack is a great place to get started with affiliate marketing. Their platform is all about turning your customers and influencers into marketeers that help grow your startup.
In fact, if you have a blog and are looking to make an extra buck, you should take a look at our newly launched Salesflare Influencer Program. We currently offer 30% monthly commission on every paid sign-up you bring in, for as long as the customer is with us.
---
TL;DR
risk is low and the reward high
you only pay for actual conversions, not for traffic driven to your website.
think of it as outsourced marketing
great for SEO with content and backlinks from affiliates driving traffic to your website
something to convince influential bloggers to write about you
---
Fall down 7 times, get up 8! 👊
Time for a little recap:
Use your existing network
Start blogging
Dive into online communities
Cold email
Give stuff for free
Affiliate marketing
Get it into your head that you need to start connecting with people. Without customers your beloved little baby is going to die. We know it and you know it, so you better get to work.
The 🔑 here is to embrace failure. There's an old Japanese proverb that says:
"Fall down 7 times and get up 8 times"
🐦 click to tweet
Fear of selling isn't an option here. You need to get up on that horse and start finding out the best ways to find customers for your startup. Whenever you get knocked down, just lift yourself up again and try something else. Something will stick.
I'll have Shia LaBeouf take it from here to get you all psyched and ready to go in for the kill:
How are you planning to get your first 100 customers? Or if you're playing in the big boy's league already: how did your startup gets his first 100 customers? Lets us know in the comments or give us a shout @salesflare on Twitter!
---
Ready to start filling your sales pipeline with customers?
 Now that you know how to start getting in touch with your first 100 customers (or better yet, already have more than 100 customers), the question is: how will you organize yourself for closing these deals too?
Following up 100+ customers in Excel or from memory just doesn't cut it anymore. Opportunities start falling through the cracks and a lot of time is spent manually following up. 
An automated CRM, like Salesflare, helps you keep this overview without the extra work.

It automatically keeps track of every email, meeting and call. It lets you know when your leads are opening your emails or visiting your website. And it tells you when accounts have gone inactive and it's time to follow up. 

You can even automate your cold emails reaching out to potential customers at scale with email workflows.

Setting up your CRM properly from the start makes or breaks how well you can handle following up and closing your first 100 customers (as well as setting your startup up for continued success when you've grown beyond 100 customers). 
For an intelligent CRM software that takes care of all the manual tasks so that you have time to build relationships and close deals  – give Salesflare a try.
It's set up in minutes. Pinky promise! (If it took you longer than a few minutes, reach out to us on the chat on our homepage with how we can do better. We continually work on making it even easier.)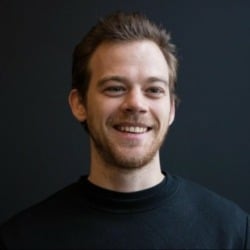 I'm the former growth strategist for
Salesflare
— the simply powerful CRM for small businesses. Growth and automation are my jam.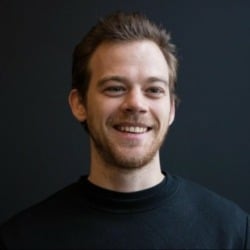 Latest posts by Gilles DC
(see all)