Content Ideas on Tap: 8 Ways to Generate Infinite Ideas for Your Content Marketing
Content Marketing Masterclass: Part Three
Now that you've pulled together a solid content strategy, it's time to come up with a bunch of juicy content ideas.
A great idea is the heartwood of any content campaign. Excitement around that idea is what will keep you going through the – often long – creation and distribution process. It's also what will feed an army of raving fans.
If you get off on the wrong foot, however, and start investing time and energy in a bad content idea, it's not only a waste of resources, you actually risk turning your audience off.
When it comes to ideation, the stakes are high and the struggle is real. Research shows that "57% of B2B marketers say that producing content consistently is their biggest struggle."
If you know how to tackle content ideation, however, you can find brilliant ideas without the heavy lifting. This post will give you all the ideas on content ideas you'll ever need (talk about meta!).
This post is Part Three in a brand spanking new Masterclass Series on Content Marketing. We believe it's an incredibly important topic – and according to a little survey we did, you do too. Trouble is: there is so much content on content marketing out there (talk about meta) and a lot of the intel is conflicting.

We bring this Masterclass to you in partnership with Anouck Meier, Chief Storytelling Officer at Ampersand. Anouck is a conversion copywriter and a content marketing strategist who has worked with numerous brands, big and small, to help them achieve their business goals through strategic content. Let's get the story on content straight once and for all in a comprehensive guide. Ready to dive in?
– Jeroen Corthout, Co-Founder Salesflare, an easy-to-use sales CRM for small B2B companies
---
1. Start with Your Reader in Mind
Now this might sound obvious, but I feel like it's my duty to put this disclaimer out here: no matter what kind of sophisticated, data-driven tools, statistics and metrics you're going to throw at the content ideation game, you have to keep your reader in mind. Always.
It's probably the number one mistake I see in the content marketing sphere: egocentric content.
It's content that plays into the interests of the creator. Stuff that you find interesting, in your words, at your level of expertise, solving your problems and answering your questions. Unless your targeting your own clone, it's just not going to help you hit those goals you included in your content strategy.
I hate to break it to you, but as a content creator, the universe does not revolve around you. It revolves around your ideal reader. 
Put yourself in the shoes of your prospects and show a little empathy.  Any content idea brainstorm should start with these questions in mind:
What questions do they have about your product, service, industry or niche?
What are they struggling with?
What problem(s) can you help solve?
What should they know? How can you educate them?
What are their challenges and pain points?
What do they read on the interwebs?
Are there specific blogs or websites they frequently visit?
Any groups, memberships or forums they are part of?
It can be a useful exercise to gather this information and structure it in one or more marketing persona's you can keep coming back to.
Persona's are archetypal people to represent your ideal customers – either as a basic sketch or an in-depth and layered portrait. Anything you can do to understand your audience is going to help you plan and craft strategic content.
Even better than just guessing what your audience finds engaging, however, is actually turning to them for answers.
---
2. Ask Your Audience
Again, before turning to technical tools, use common sense and find the intel you're looking for at the source: your audience.
You could simply post a question or a poll on your social media profiles. For example, "What content would you like to see us sharing?". If you have a sense of what they may be looking for, you can create a poll and list a few options.
You can post it on your own profiles, in groups (if the rules allow for it) or create a poll on Facebook or Instagram stories.
Alternatively, you can pose the question on your blog or email your list.
If you really want to drill down deep, consider creating a survey with a tool like Typeform, Visme, SurveyMonkey, Google Forms or another Google Forms alternative.
Finally, don't forget to search in places where you're already talking with your audience. Dig through customer service surveys, interactions on social media, FAQs and Q&As. Analyse your customer touch points systematically and you'll be amazed at what kind of intel you can uncover.
As you're gathering information, consider audience intent because simply knowing what topic your audience is interested in will only get you so far.
In addition, ask yourself what they want from the information on that topic. Are they just researching? Shopping around? Something else still?
This is the stuff that can turn your content from great to conversion-worthy.
---
3. Everybody Go Surfin' (for Content Ideas)
Talking to your prospects and customers directly is ideal, but if you haven't got them on speed dial (or if you're short on time), there are other shortcuts.
Back when I was still at school (waaaaay back that is, I'm talking pre-internet days), there really was only one place to turn for inspiration on tap: the public library. 📚
Now, while you could still obviously go there, you can also work from the comfort of your own home or office and find inspiration from these online substitutes:
The idea is straightforward: if people are creating books, podcasts and videos about certain topics, there must be an interested audience paying attention to them.
Look for videos that went viral or best-selling books and investigate: what exact topics did they cover?
Really dive deep and look for concrete content ideas, not just broad themes.
On Amazon, for example, you can view the table of contents of most popular books – just take a cue from there. Look up popular episodes of relevant podcasts and be inspired. Or have a look at which videos are ranking high on YouTube and see what exact topics they're covering. Easy as pie.
---
4. Using Idea Generators & Online Tools
Talk about easy internet research: another non-painful way to generate more content ideas is to use one of these online tools.
SE Ranking
The secret of having a strong website that ranks high is putting out content with the best possible set of keywords. Out of all the tools available in the market, very few provide detailed and accurate statistics on the analyzed keyword like SE Ranking keyword tool. This tool generates a list of similar or related search queries for each keyword and shows its search volume along with other metrics. Moreover, you can even perform bulk keyword analysis with this software.
It also allows you to monitor which web pages rank in the top 10 of the SERP  for a particular keyword. This way, you can see how you can optimize your content to rank higher for a specific keyword.  
SE Ranking also:
Offers a wide range of SEO tools

Has an option of competitive research

Provides B2B features like white-label, SEO reporting, and API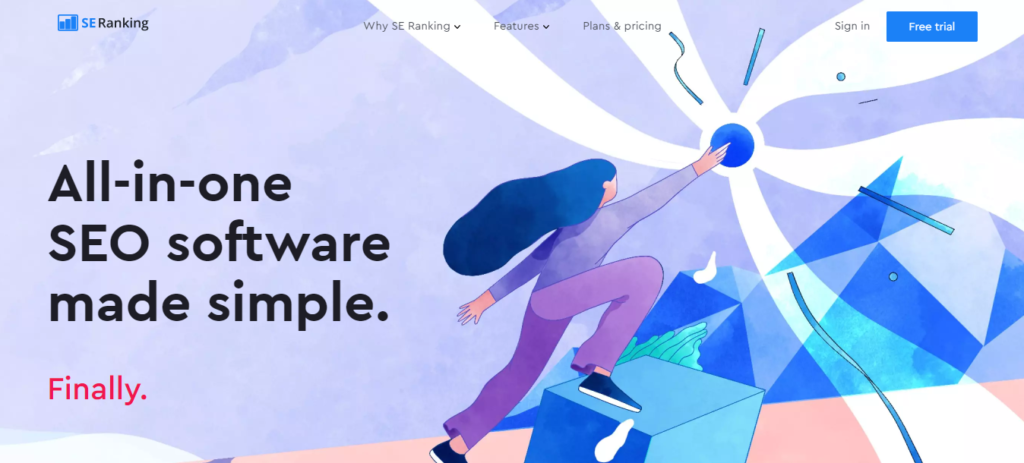 Answer The Public
Answer the Public is a clever consumer insight tool which, quite frankly, reminds me of my children: the questions. never. stop. coming. (And I say that in the most loving way possible). ❤️
It combines suggested searches from search engines and visualizes them in a search cloud. Unlike my kids, the tool organizes the questions in categories such as what, where and why and as such, it provides an overview of the questions people are typing into search engines from their various devices.
This way, you can figure out what your audience is actually asking in relation to your product. With your content, you can meet the needs of our audience by delivering valuable answers to those questions.
As an added bonus, you can organize your findings in a Google Sheet and research them SEO-wise in Google Keyword Planner, Ubersuggest, Moz or another SEO tool of your choice. This way, you can make an informed choice of what to write about exactly, based on search volume data and the trends section.
Buzzsumo
Some of these online tools do a lot more than just provide you with content ideas. In Buzzsumo's case: much more!
Buzzsumo also:
shows the number of shares and social engagements
identifies key sharers
displays backlinks
shows top trending content
In other words, you can quickly tell how well a particular topic is performing and what's resonating most with readers. Running a few searches in Buzzsumo should provide new angles for your content in minutes.
Ubersuggest
At first glance, Ubersuggest is like Google Keyword Planner, only more streamlined. Enter a keyword, and UberSuggest will supply you with dozens, sometimes hundreds, of phrases.
But it doesn't just provide keywords – the tool also has a feature called – wait for it – "content ideas"! It lists out all of the articles that people have written in the past that contain the keywords you're researching. You'll see over 100 content ideas so you'll have a lot to choose from.
The results are sorted by:
Social shares – which content got the most shares on social sites?
Estimated visits – how many visits is each article receiving from Google? And what are the keywords that each article ranks for?
Backlinks – how many people are linking to each article? What are the URLs, domain scores, and even page scores?
By seeing content broken down by these three metrics, you'll have all the data you need to make an informed choice of topic: if you are choosing ideas that do well on all three, chances are that the topic is worth writing about.
---
5. Steal a Content Idea (or Two) from the Competition
Let's get real for a moment: obviously you're already reading your competitors' content and watching what you think works and what doesn't (amiright?). But there are also ways you can sneak a peek farther behind the curtain of what your industry – ahem – peers are working on. 👩‍💻
Provided they're targeting the same audience, it's likely that their star content will also appeal to your prospects.
Those searches you did on Buzzsumo and Ubersuggest? You can run them to analyze the competition's content as well. Type in their URL, look at their top pages and see what's working for them.
On Facebook, use Pages to Watch. It's a robust Insights tool that gives you the ability to analyze a ton of interesting data. Once you've added a brand page to your list, you'll be able to see the following stats:
Total page likes (and the % +/- change from the previous week)
How many times they've posted to Facebook this week
Their total engagement count for the week
When you click on a specific brand's icon in your list, Facebook provides a detailed view of every one of their posts from the current week – ranking them from the "most engaging" to "least engaging." This allows you to quickly check the top posts from every page you follow in a matter of seconds.
I recommend "watching" your top peers, brands and influencers that you admire in your space, brands that have a strong social media presence in your space, etc.
Don't stop there though!
Subscribe to your competitors' email campaigns to keep an eye on what is working (and what's not). Look at their landing pages, e-books, webinars, white papers and even product descriptions to see what they're doing well (and not so well). You never know when (or where) an idea is going to strike.
I'm sure I don't need to remind you that, whatever ideas you're borrowing from the competition, you shouldn't just copy/paste.
If they're getting all their traffic from their 'How To Find Your Soulmate on Tinder Manual', it can be tempting to build off their success and create your own Ultimate Tinder Guide. However, imitation always puts you behind your competitors.
It's a far better strategy to take that inspiration from your peers as a starting point for content ideation. You may find that you're really famous (or would like to be) for your own matchmaking services. Or, you could decide that romance isn't your cup of tea at all and you want to focus on something entirely different. 🥀
Whatever you do, refer back to your content strategy and keep your own brand story in mind.
---
6. Digging Deeper with Analytics
Of course, if you're already publishing content, you may not have to go very far at all to dig for content gold.  One of the best ways to find out what your audience likes is to use your analytics.
Check your website's native analytics or install Google Analytics for more insights.
On the left sidebar go to Behavior > Site Content > All Pages. Once in the Pages screen, select the date range you'd like to see. Click on "Apply", scroll down, and you will see a list of all your blog posts, and pages, in descending order by pageviews. This list shows your blog's most popular content for the selected date range.
Your social media analytics can also tell you what's working and what's not. On Facebook, for example, go to your Page Insights > Posts and manually scroll through your posts with high reach or engagement. You can also find your top posts on Instagram, Twitter, LinkedIn, and Pinterest using their respective native analytics.
Take some time to study your top-performing posts and re-create, recycle and reinvent them. Try to identify patterns by asking yourself:
Do the posts share a common theme or topic?
Is one particular category more popular than others?
Is the content from a particular source? Your blog? Other sources?
Does a particular content type — text, image, or video — perform consistently better than others?
Does a certain style speak more to your audience (long reads vs. short articles, case studies vs. research-based pieces,…)?
Did people leave any interesting comments on those posts?
Double down on whatever seems to be working best for your audience.
---
7. Follow Trends
To make sure you're focusing on the right keywords in your content, put a few variations of those keywords into Google Trends.
Ever wonder why this post is focused on content ideas rather than on content marketing ideas, for example? A glance at this graph should be all the info you need.
---
8. Extra Tip: Keep a Swipe File
If you go through this process, it's very likely that you'll end up with a huge pile of ideas – way too many to act upon immediately. Whatever you do – don't just chuck them in the bin.
I recommend keeping a file of all the ideas that inspire you: a swipe file. Keep feeding this file and refer to it whenever you need inspiration for content.
Feel free to organize it in whatever form works for you: an app, a physical file, a scrapbook, an email folder, …
Some of my favorite tools include Evernote (if you get the pro version, it allows you to search even your notes scribbled by hand), Trello, Asana and Pinterest.
A lot of these tools will allow you to copy or clip things directly from your browser. I personally also like to dictate ideas into my phone as they often come to me when I'm out and about or talking to someone (if not, they are usually lost forever).
---
How do you usually come up with ideas for content? Which of the proposed tactics will you give a go? Let us know in the comments!
And don't forget to check back next week for Part Four of our Content Marketing Masterclass about organizing your content ideas in a content calendar!
We hope you liked this post. If you did, spread the word!
👉 You can follow @salesflare on Twitter, Facebook and LinkedIn.

I help companies engineer content marketing strategies to build their tribe while adding to their bottom line. I'm also notorious for writing converting copy for sales funnels that doesn't make you want to rip out your eyeballs.

Latest posts by Anouck Meier
(see all)