The top 60 startup & tech conferences in 2021
UPDATE: we're continuously updating conference dates, virtual events & cancellations due to COVID-19 as information comes in.
Conferences are a necessary (sometimes fun) evil as a startup.
But there are seemingly hundreds, if not thousands, of conferences out there these days – where do you even begin? 🤔
Lucky for you, we've compiled a list of 60 – yes, 60 – events from all over the world that you can check out for networking, pitching and so much more in 2021.
This list spans countries, industries and formats, so there's something for everyone.
Plus, we've also put together a handy Google Sheet for you to download and customize for yourself. Check it out here! 🚀
This list is in chronological order by month, but please note that for conferences with unannounced dates, we've added those events under the month they were hosted in 2020 – so these are subject to change.
Ready? Let's go! 👊
---
Top startup conferences in January
January 11-14, Las Vegas, Nevada, USA
The Consumer Electronics Show is the biggest trade show devoted to all things consumer electronics (surprising, I know). It has served as the proving ground for innovators and breakthrough technologies for 50 years — the place where next-generation innovations are introduced to the marketplace. The event is owned and produced by the Consumer Technology Association. 2019 saw more than 182K attendees – so, yeah, it's huge.
UPDATE: Due to COVID-19, CES will be all-digital this year.
January 12, Vancouver, Canada
Traction Conf promotes the fact that it brings you "actionable strategies and tactics for supercharging your growth" from founders and leaders in innovative companies such as Google, Reddit, Slack, Trello, Box, Bumble and much more. It's also a great way to network with Fortune 500 leaders, high-growth startup founders, investors and prominent media outlets.
UPDATE: Due to COVID-19, this year Traction Conf has shifted online with weekly offerings. They have speakers lined up through the end of the year including CSuite from Zendesk, Twilio & more!
January 12-13 & 19-20, Boston, MA, USA
Business of Software calls itself "the world's smartest conference for software entrepreneurs" and it isn't lying. This year, its format consists of online masterclasses that are packed with learning, listening, and networking.
UPDATE: This year's event is online in the format of monthly events! You can join from anywhere in the world.
---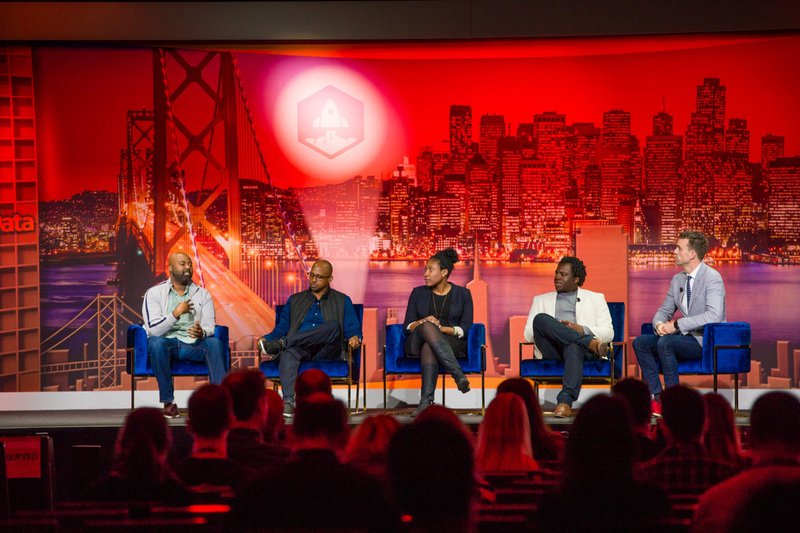 Top startup conferences in February
Startup Grind from Google for Entrepreneurs
February 11-12, Silicon Valley, California, USA
This conference is where Google's community of startups, partners, investors, thought leaders and more come together for four days of "invaluable education, connection and inspiration." It includes seven key themes, 100 workshops and the opportunity to build relationships with some of the most brilliant minds in tech. There's something for everyone – whether you just started a company or are looking for a co-founder or are even trying to scale your business. Their new virtual and choose-what-you-pay model makes the event accessible to anyone.
UPDATE: Due to COVID-19, Startup Grind will be fully online this year.
February 23-24, Dublin, Ireland
SaaStock has transformed into SaaStock Remote –  a series of monthly online events for the global SaaS community. SaaStock is filled with many satellite events, focused on the business of building and scaling B2B SaaS companies. Attend the first two events in February and March focused on content sessions and networking!
---
Top startup conferences in March
March 2-5, Toronto, Canada
DX3 recently became part of IoT Events and is based on three pillars: marketing, retail and technology, "but with a fresher perspective and energy." This is one of the largest events for marketers in Canada, and gives C-level executives the opportunity to share insights and for tech leaders to showcase their innovations.
March 14-16, San Diego, California, USA
Social Media Examiner hosts this annual gathering of social media experts. This event is an opportunity to connect with thought leaders and like-minded peers around all things social media. Get the latest advice and learnings and empower yourself with business-building ideas from innovators across industries.
March 16-20, Austin, Texas, USA
The event that almost doesn't even need an introduction. SXSW is a defining event for several industries – film, culture, music, tech and so much more. This conference has 25 tracks filled with keynotes, panels and more, from brilliant people creating incredible things. It's huge, it's fun and it's a cool place to meet some of the most creative minds out there.
UPDATE: Due to COVID-19, SXSW has introduced SXSW Online for 2021.
March 2022, Kuala Lumpur, Malaysia
RISE is the largest tech conference in Asia. Much like Collision, RISE is part of the Web Summit network, and is ideal for those startups interested in learning more about business in Asia. It's an ideal place to start networking if you're trying to meet more business connections in Asia and beyond. After 5 years in Hong Kong, in 2022 RISE will be held in Kuala Lumpur, Malaysia.
---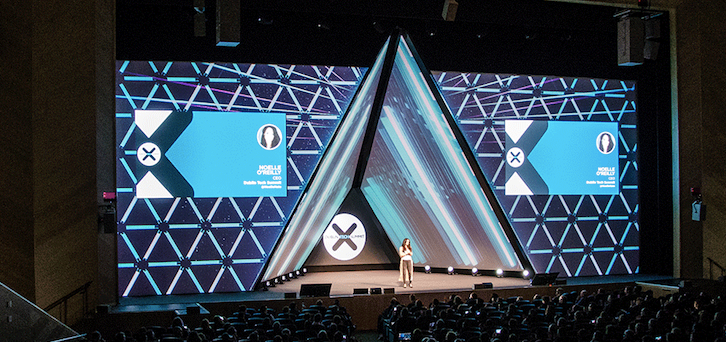 Top startup conferences in April
TBA, Kyiv, Ukraine
Growth Marketing Stage is held in Kyiv, Ukraine. The tickets are affordable and the lineup of speakers is still impressive, including growth execs from Ahrefs.com and SEMrush. It's a good deal. Planning to attend? Use this discount code salesflare to get 15% off! 2021 dates will be announced soon.
April 20-22, Toronto, Canada
Collision is known by CBC as the "TIFF for tech", while Inc. Magazine coins it the "fastest-growing tech conference in North America". 32,000 people connected online at Collision in 2020. You can join 450+ speakers for over 100 hours of online content over three days.
UPDATE: Due to COVID-19, Collision will remain online for 2021.
April 20-22, Toronto, Canada
SaaS Monster brings together the world's most disruptive emerging technology companies, featuring the industry leaders in cloud computing, big data, security, marketing, customer service, and enterprise technology. With four curated content streams exploring the technology that fuels our businesses: Cloud, big data, enterprise technology and security, it helps connect CIOs and CTOs, investors, startups and established companies through panels, roundtables, workshops, and more.
UPDATE: Due to COVID-19, SaaS Monster will also be part of their online-only event under the 'Developers & data' theme.
April 27-28, Las Vegas, Nevada, USA
Adobe Summit is all about creating the ultimate customer experience. This conference is great for B2B marketers, content marketers and those looking to learn more about personalization and building a great customer journey. Past speakers include Drew Brees (NFL quarterback), Reece Witherspoon (actress, producer and entrepreneur), Steve Lucas (SVP, Digital Experience at Adobe) and Bruce Daisley (VP EMEA at Twitter).
UPDATE: Due to COVID-19, Adobe Summit will be a free online event in 2021.
Content Marketing Conference
April 27-29, Boston, Massachusetts, USA
This is an event for those working in content marketing across all industries to come together to network, share knowledge and participate in workshops as well as master classes. It's a very hands-on event with opportunities to learn from successful leaders in content marketing.
UPDATE: Due to COVID-19, an online-only event will take place – CMC Virtual 2021!
---
Top startup conferences in May
May 5-21, Riga, Latvia
This conference is focused on various topics within the tech world – deeptech, fintech, SaaS, IoT and more. More than 2,000 people attend, as well as more than 350 startups and more than 100 investors. It's a great place to network as well as learn more in-depth information about these innovative tech topics. For their 10th anniversary, they are hosting a 3 week event to explore the current course of action in Green New World, Knowledge for Growth and Digital Transformation.
TBA, San Francisco, California, USA
LTV Conf is an event that's certainly worth considering. In 2019, the event was hosted in New York – now, they're planning to host the event across coasts in San Francisco. This event brings together like-minded SaaS entrepreneurs, companies and investors from all over the world to collaborate and make meaningful connections.
UPDATE: Due to COVID-19, the conference has been postponed. We'll keep you updated when new dates are announced!
May 11-12, San Francisco, California, USA
Think is the tech conference organized by none other than IBM. It's a great chance to hear from the industry leaders and learn from their insights in SaaS and all ranges of technology.
UPDATE: Due to COVID-19, a digital event will take place.
May 21, Austin, Texas
Running Remote is the world's largest remote work conference. It's a conference carefully curated to teach you next-level, actionable strategies and tactics you can utilize the very next day to build & scale your remote team. It also provides a networking platform to meet leading tech companies, thought leaders and founders of globally distributed teams. Last year recorded 418 attendees from 46 countries. 57% of attendees were CEO's/Founders/VP's coming primarily from SaaS, consulting, web & app development, and e-commerce.
UPDATE: Due to COVID-19, Running Remote Conference will be online for 2021.
May 27-28, Tallinn, Estonia
Latitude59 is the flagship startup and tech event of the world's first digital society – e-Estonia. Companies and investors from all over the world come to this event to connect with the Baltic, CEE and Nordic tech ecosystems and take part in the event's platform of entrepreneurs, investors and leaders to learn, connect and network.
TBA, Berlin, Germany
The Rise of AI conference has been around for about five years, and continues to be one of the premier AI events out there. With more than 800 AI experts, decision makers and thought leaders in one place, it's a great place to discuss AI and its impact on society, politics and the economy. 2021 dates haven't been announced yet – stay tuned!
TBA, Helsinki, Finland
Arctic 15 is described as "the most effective matchmaking startup event in the Nordics and Baltics." The event revolves heavily revolves around making deals and creating an environment for quality networking. The program includes 15 tracks across tech and offers one-on-one meetings in Deal Room, plus side events and workshops. 2021 dates haven't been announced yet – stay tuned for updates!
---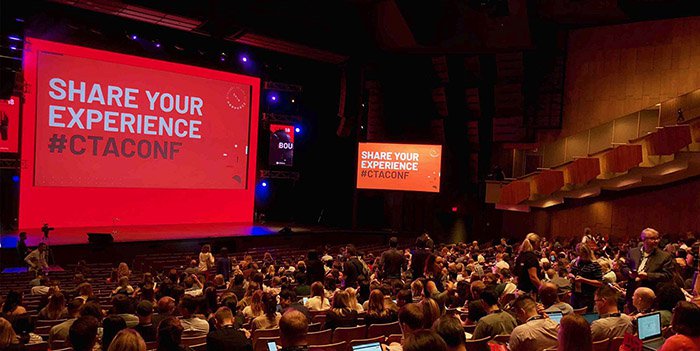 Top startup conferences in June
June 3, San Francisco, California, USA
This event is about all things growth hacking. Although June is a few months away, you can already get a virtual pass for last year's event and learn from some of the biggest growth hackers out there, such as the Director of Product Management at LinkedIn or the COO of Intercom.
June 7-9, Scottsdale, Arizona, USA
This event's mission is to empower its community by highlighting everything new and innovative in the B2B space. It's designed to help teams get inspired and tackle the latest trends. 2021's edition includes discussions around sales enablement, demand generation, channel marketing and more.
June 17, Dublin, Ireland
Dublin Tech Summit is relatively new to the conference scene, but has grown to be one of Europe's largest and fastest-growing tech conferences. This event is two days packed with influential tech leaders and brands coming together for growth, development, knowledge sharing, networking and more.
UPDATE: Due to COVID-19, Dublin Tech Summit will be held online this year.
June 17-19, Paris, France
VivaTech is the biggest tech and startup event in Europe. It's where business meets innovation. It's an annual international gathering of some of the world's brightest minds, startups, talents and innovations. The program offers top speakers, exhibitions, open innovation, live experiences and more. VivaTech 2019 saw 124,000 visitors.
UPDATE: Due to COVID-19, VivaTech will have both an in-person and online event.
TBA, Paris, France
SaaStr Europa, the European version of SaaStr Annual, is the place to be for SaaS growth hackers in Europe. The tickets are affordable, the venue is beautiful and networking is strong. Salesflare has attended since its start in 2018 and plans to go back. Also joining? Let us know so we can meet up!
UPDATE: Unfortunately, due to COVID-19, SaaStr Europa has been put on hold. More updates to follow once available.
TBA, Valencia, Spain
Webit.Festival is the largest tech and innovation festival in the world, hosting 15,000 attendees, 500+ investors, 512 accredited media, 73% C-level attendees, 120 countries and more. Their tech focus areas include AI, 5G, blockchain, IoT, VR/AR, Next-Gen Cloud, & biotech robotics. They also host the largest startup challenge in the world – "Founders Games" with funding of $500K – $20M. 2021 dates haven't been announced yet – stay tuned!
June 28-July 1, Barcelona, Spain
4YFN, also known as 4 Years From Now, brings together startups, investors, corporations and public institutions to create new ventures and build a startup ecosystem together in the mobile industry. It's their biggest startup event held during the world's largest exhibition for the mobile industry, GSMA MWC. If you can't make it to Barcelona, they host 2 more events worldwide, including Los Angeles and Shanghai.
June 28-July 1, Barcelona, Spain
Formerly called Mobile World Congress, MWC Barcelona is the largest mobile event in the world, bringing together innovations and leading tech from more than 2,400 companies, as well as a program that brings together thought leaders and innovators to explore and discuss hot topics in the industry. Basically, it's huge.
---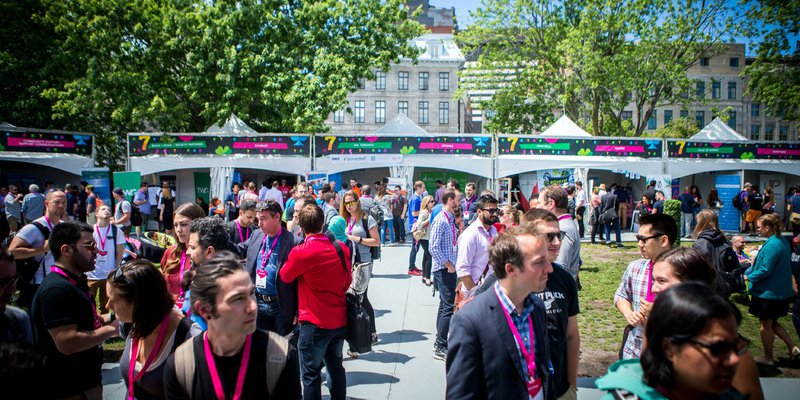 Top startup conferences in July
July 12-14, Seattle, Washington
This three-day conference, put together by Moz, is full of forward-thinking sessions on SEO, growth marketing, the mobile landscape, analytics and more. It's a great opportunity to chat with industry leaders, Moz employees and meet like-minded peers. Plus, you can get a hug from their friendly robot, Roger.
UPDATE: Due to the COVID-19 outbreak, MozCon will be held online this year.
TBA, London, United Kingdom
Declared as 'Europe's number 1 B2B sales leadership conference', SaaS Growth Conference is unlike any other of its kind in Europe. They focus on bringing in the top sales and revenue leaders. It's great for networking and learning from the best SaaS experts, founders, sales leaders and investors. 2021 dates haven't been announced yet – stay tuned!
TBA, Montreal, Canada
This event is a music festival-esque conference that brings together, you guessed it, startups! It offers tangible opportunities to make the connections you need as well as world-class content to educate and inspire. The fact that it's hosted in Montreal is also a nice bonus! 2021 dates haven't been announced yet, but keep your eyes pealed!
TBA, Seattle, Washington, USA
Digital Summit offers events all over the US, bringing together leading innovators, thought leaders, startups and more from the digital marketing space. The program is packed with content from leading companies, such as LinkedIn, Facebook, Wall Street Journal, Microsoft and more. 2021 dates have yet to be announced.
---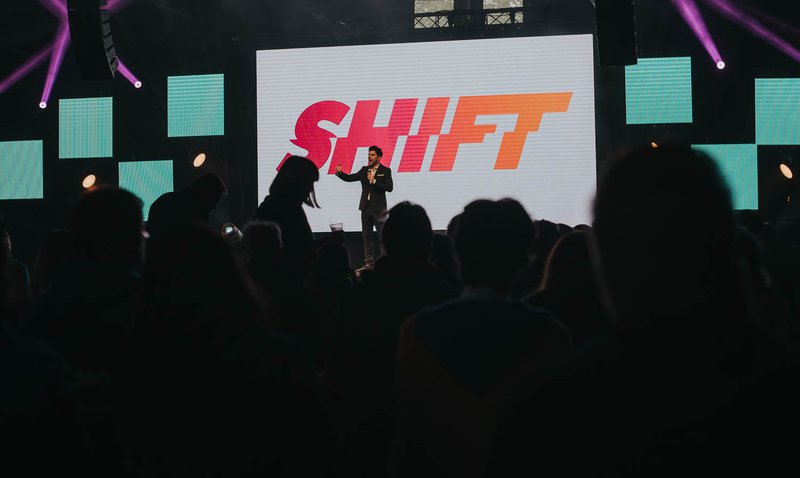 Top startup conferences in August
August 25-26, Turku, Finland
SHIFT is a relatively new conference that offers a healthy mix of attendees from the business and tech worlds. They want tech and business to be beneficial, responsible and sustainable. Plus, the event tries to avoid being too big or too small, so that you can talk to everyone you'd like to without getting lost in the mix of things.
---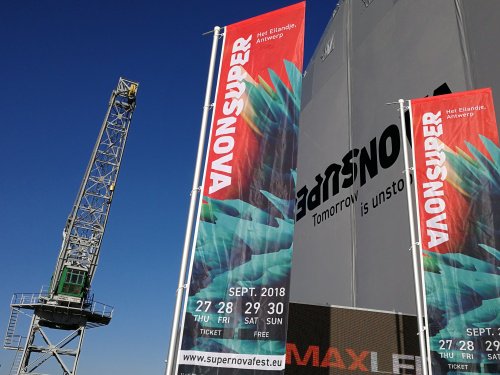 Top startup conferences in September
TBA, SF Bay Area, California, USA
SaaStr Annual is described as the largest gathering in the world for B2B software. What makes this event special is the fact that it's a non-vendor SaaS conference – meaning there are no commercials, no paid content and no boring panels. As they explain, every session is hand-screened and vetted to specifically help you learn. The event promises specific, actionable advice and learnings to help you grow from $0 to $100 million ARR. Not bad. Stay tuned for 2021 dates!
September 2, Frankfurt, Germany
A curated one-day event that brings together world-leading experts to speak all things growth marketing. As they describe it, "100% knowledge – 0% blah blah." The first speaker has already been announced: Dain Ariely, Behavioral Economist at Duke University.
They let us know that as a startup you get a special ticket price! All you need to do is reach out to: [email protected]
September, Paris, France
B2B Rocks, based in Paris, proclaims itself as 'the leading European conference for B2B & SaaS startups'. It's limited to 800 founders, which allows for great networking and valuable insights from peers in B2B SaaS. The keynote speeches are capped at 30 minutes and are known for their actionable advice.
TBA, Ottawa, Canada
SAAS NORTH is Canada's largest SaaS conference for scaling up! Since 2016, SAAS NORTH has brought together the most innovative SaaS companies and their teams to learn, network and grow alongside the most formidable entrepreneurs and investors globally. It's an event that has a reputation for tactical content and curated networking in a high-energy yet surprisingly down-to-earth, grass-roots vibe! 2021 dates haven't been announced yet, but keep your eyes pealed.
September 8-10, Salamanca, Spain
This conference is one of the biggest tech-entrepreneurial events in Europe. It's supported by the European Commission-Startup Europe, the Central American Integration System (SICA), the University of Salamanca and Salamanca City Council, and it's free. It's a great event to learn more about what's currently happening in the international tech-entrepreneurial ecosystem.
September 21-23, San Francisco, CA, USA
TechCrunch Disrupt is the world's leading conference for introducing game-changing startups and technologies. It's where you'll find the latest in the tech industry. Its main focuses are to shape the future of disruptive technology and provide expert advice to entrepreneurs. Can't make it to San Francisco in September? Their Berlin edition dates are TBA but you can expect it to happen in November/December.
TBA, Cluj-Napoca, Romania
This conference is dedicated to putting the future of tech, business and the knowledge of global leaders under the spotlight. More than 2,200 founders, investors and CEOs of IT and digital companies meet at this event in Romania for a program that includes more than 70 keynotes, panels, workshops and more. 2021 dates haven't been announced yet, but keep your eye out!
September 29-October 1, Vancouver, Canada
Unbounce's Call-to-Action Conference provides companies with outstanding speakers that provide valuable case studies, learnings and more for growing your startup. Even if you can't attend the event itself, I still recommend checking out videos from past speakers – this event really does provide a lot of insights and value.
UPDATE: Due to COVID-19, Unbounce CTA Conference has been cancelled for 2021. You can sign up for their email list to stay updated for 2022!
---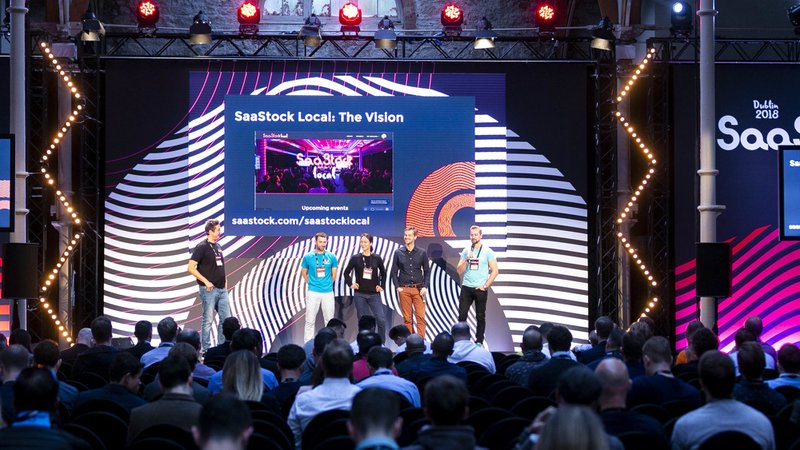 Top startup conferences in October
October, Amsterdam, The Netherlands
TNW Conference feels more like a festival than a regular tech conference. This two-day event is packed with industry-leading speakers, panel discussions and workshops. It covers a wide variety of tech topics from a business perspective. Plus, it's a great way to meet a ton of startups from all over the world. 2021 dates have yet to be announced – stay tuned!
October, Dublin, Ireland
This talent and tech festival is designed for CEOs, founders and those making great products all over the world. The event showcases people with vision behind the products we use every day while connecting local talent in a festival-like atmosphere. The program includes workshops, side events and even food trucks. Be sure to check out their website for further updates on the 2021 edition.
TBA, San Francisco, California, USA
LAUNCH Scale is an invigorating two-day gathering offered exclusively to over 2,000 founders. Hosted by Jason Calacanis, Scale offers founders the chance to meet and establish relationships with investors, learn how to raise money, but most importantly help scale their company successfully. Keep your eyes pealed for when 2021 dates are announced!
October 8-10, Lviv, Ukraine
For the seventh year in a row, IT Arena conference will unite over 4000 tech experts, engineers, company founders & CEO, as well as everyone enthusiastic about the new tech at Arena Lviv Stadium. IT Arena is a unique opportunity to discover the potential of Ukrainian and international developers, meet like-minded people, get acquainted with global business ideas, get inspired by experiences of successful tech entrepreneurs and find opportunities for your business.
TBA, San Francisco, California, USA
SaaS Connect, based in San Francisco, focuses on building SaaS partnerships. It's a top conference for those in the business development field. It's noted for sparking ideas and providing actionable suggestions to implement when back at the office. Keep your eyes pealed for 2021 dates!
October 6-8, New York, New York, USA
Ascent is a SaaS focused conference grouped into SaaS Summit, Growth & Marketing, Startup Grad School and VC & Investing. Ascent is a great opportunity for SaaS industry learning and networking for the New York/East Coast-based SaaS community.
October 6-8, Mexico City, Mexico
South Summit is a leading event bringing together the most innovative entrepreneurs with the most important international investors and companies interested in improving their competitiveness through innovation.
SuperNova
October 8-11, Antwerp, Belgium
Held right outside of Salesflare HQ, SuperNova is a new conference that launched in September 2018. It brings together thought leaders, investors and European scale-up companies for four days of inspiration, connection and mind-blowing demonstrations from the technological innovations of today and tomorrow.
UPDATE: Unfortunately, due to the COVID-19 outbreak, SuperNova has been cancelled for 2021.
If you're into tech and digital products, make sure not to miss this one. HowToWeb manages each year to gather an amazing speaker line-up. It's fully aimed at showcasing the necessary startup methods, tactics and mindset to help you build better products and get faster growth.
Our co-founder Jeroen turned his keynote at HowToWeb into a blog post, with links to some of the most interesting other talks. Stay tuned for 2021 dates!
---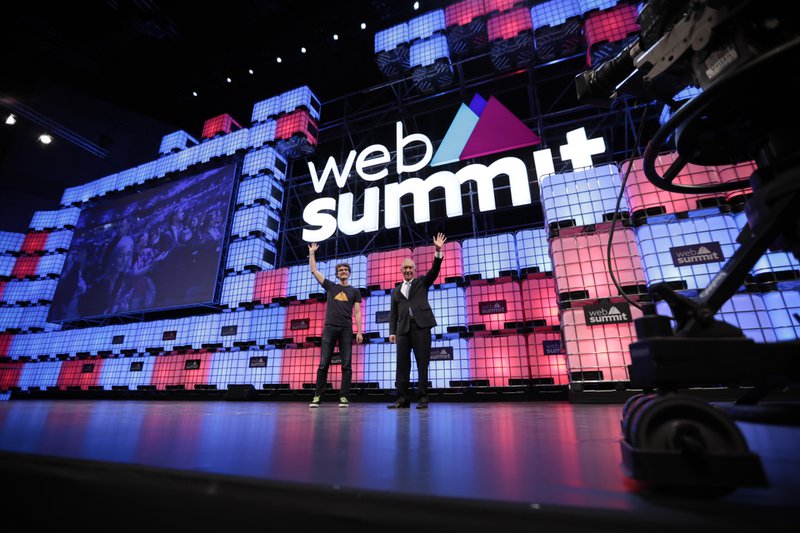 Top startup conferences in November
TBA, New York, New York, USA
DATAx, hosted by The Innovation Enterprise, is for data-driven business leaders and data scientists. It's a cross-industry event that focuses on data-backed content designed to offer solutions to everyday challenges. Can't make it to New York? They host DATAx Conferences in San Francisco and Singapore as well. Be sure to check their site for their 2021 date announcement.
November 1-4, Lisbon, Portugal
Forbes says Web Summit is "the best tech conference on the planet"; Bloomberg calls it "Davos for geeks"; Politico, "the Olympics of tech"; The Guardian, "Glastonbury for geeks"; and, in the words of Inc. magazine, "Web Summit is the largest technology conference in the world".
Whatever Web Summit is, it wouldn't be possible without an incredible team of over 200 employees based in Dublin, Lisbon, Toronto, and Hong Kong, including world-class engineers, data scientists, designers, producers, marketers, salespeople, and more. They've disrupted an old industry by building incredible software and designing mind-blowing events – revolutionizing how people and ideas come together to change the world.
November 19-20, Helsinki, Finland
This fun-packed event is held during the darkest time in Helsinki. The conference has a unique energy and enthusiasm and offers a place to facilitate founder and investor meetings and to build a worldwide startup community.
UPDATE: Unfortunately, due to COVID-19, Slush has been cancelled. The organization has refocused to help startups during the crisis instead.
---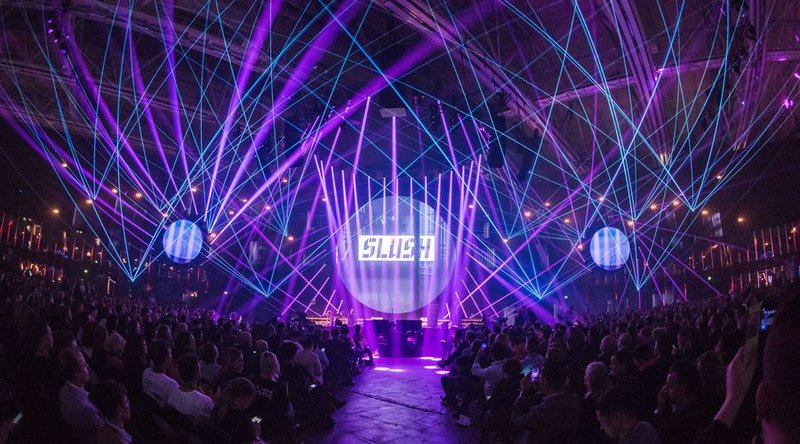 Top startup conferences in December
TBA, Oakland, California, USA
Hustle Con is a two-day startup conference that works like business school: you show up and are taught strategies for starting and growing your company.  They find the most interesting and outrageously successful startup founders, throw them on stage to explain the tactics and strategies used to grow their startups, and then invite entrepreneurs, do-ers, and tinkerers to attend, network and learn. Stay tuned for 2021 dates.
December 2, Berlin, Germany
Tech Open Air is a leading European tech festival. Its mission is to help people future-proof their businesses and their lives. As technology continues to transform the way we work, live and relate, it becomes more and more important to take advantage of the opportunities it's creating. This year, they've shifted their format into Virtual Formats to deliver value every day of the year! Starting in December there are multiple events.
UPDATE: Due to COVID-19, Tech Open Air will be fully online in 2021.
Growth Marketing Conference
TBA, San Francisco, California, USA
Growth Marketing Conference is a leading, globally-focused event for B2B and B2C growth marketers. It hosts world-class thought leaders and workshop instructors to teach more than 1,500 attendees the actionable, no-nonsense growth strategies and tactics that drive rapid, cost-effective and sustainable revenue and user growth. Last year, due to COVID-19, Growth Marketing Conference will take place online with potentially a small in-person component. Keep your eye out for 2021 updates!
---
There you have it: 60 conferences to learn, get inspired and network with the best! 💪
Don't forget: you can access a Google Sheet with all of the conferences mentioned here.
Happy conferencing! 🤗
---
Want to get a good ROI from visiting conferences?
Attending conferences comes with a substantial investment (tickets, travel, accommodation, time, …), so if you've figured out which one(s) to invest in, the next step is organizing yourself to get a good ROI on that investment.
This ROI mostly comes from meeting new prospects, partners or investors, but most people miss out on a lot of opportunity here for two reasons:
1. They don't book meetings upfront in an organized way
2. Even if they had good meetings, after the conference they forget to follow up most of the people they met to get to actual results
Working on these two points isn't hard, but it requires proper organization at scale. This can be done with an Excel type sheet, but if you don't want to have your overview and your communication in separate places, it's best to organize it in a CRM.
We have some good experience with this at Salesflare, using our own CRM software, so let me share a few tips on how you can use Salesflare to be professional at conference follow-up:
1. You can make a specific pipeline in Salesflare for conferences. This pipeline can have stages like "Want to meet", "Meeting scheduled", "Met" and "Qualified". That way you can follow where each opportunity is and whether they are qualified for further follow-up.

2. When meeting someone at the conference, it's best to enter them into Salesflare and give them a tag that refers to the conference (or store this info in a custom field). The built-in business card scanner makes adding people you meet way easier, because you can just snap a picture of their business card to add them with all their info.
3. You can set up automated email workflows to follow up people you've met. We for instance surprise people with a personalized email right after we've met them at the conference (by tagging them like suggested above). And then they receive personalized follow-ups x days after that if they didn't reply. You can basically enter the people you met in an automated follow-up flow, so you don't miss following up with them while you're recovering from the conference.

4. After the conference, you can filter your contacts by the conference tag and make sure the right people are added to the conferences pipeline. Then just update the stages of the people you scheduled meetings with to make sure that's all correct. And start following up in a professional way from there.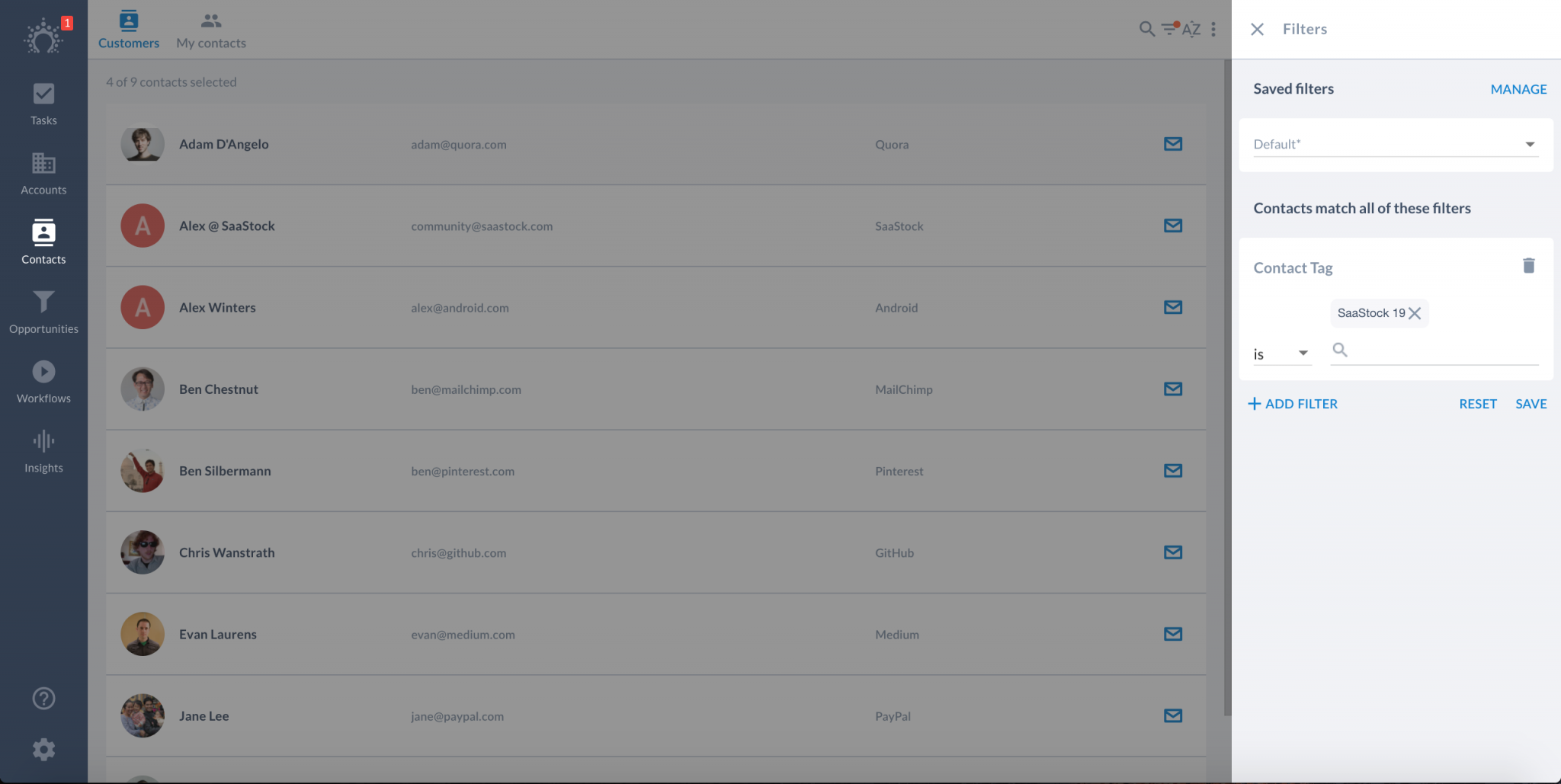 It's super easy to organize your conference follow up with Salesflare, without adding much extra work, so if you're serious about getting results, give Salesflare a try. It's set up in a few minutes and you'll be on your way to closing deals and partnerships.
You'll be properly prepping before conferences and getting results, instead of just showing up! Immediate ROI guaranteed!
We hope you liked this post. If you did, spread the word!
👉 You can follow @salesflare on Twitter, Facebook and LinkedIn.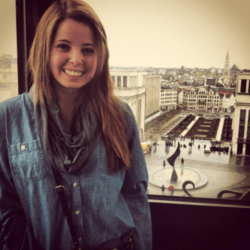 I'm a fintech-turned-SaaS marketing expert who is passionate about design, automation and all things digital.
View my full profile here
.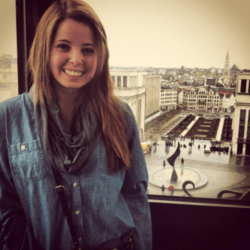 Latest posts by Ali Colwell
(see all)